Police Investigate Reported Assault, Burglary at Toscano Home
Posted:
Updated: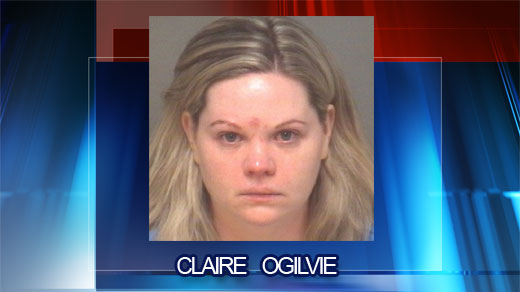 Delegate David Toscano released a press release Tuesday afternoon saying his wife, Nancy Tramontin, is resting comfortably after suffering non-life-threatening injuries following a home invasion and assault.
The attack happened late Monday night and the suspect, who is behind bars, is known by the Toscano family. NBC29 has confirmed both the suspect, Claire Kennedy Ogilvie, and Delegate Toscano took part in the University of Virginia's Semester at Sea program in the fall of 2010. Toscano taught sociology. Ogilvie took part as a lifelong learner.
Police say they are aware of that connection and they're looking into that and other possible connections.
Ogilvie is facing three charges, including entering a house armed, abduction and malicious wounding. She is currently being held without bond.
Toscano says Ogilvie hit Tramontin several times in the head after breaking into their home along Evergreen Avenue. Tramontin never lost consciousness but was taken to the hospital with non-life-threatening injuries, was treated and released. Toscano and his son were not home at the time of the incident.
Police won't comment on what type of weapon, if any, might have been used.
Ogilvie has a law degree from George Washington and was an attorney in D.C. for more than four years. She taught science at the Peabody School in Charlottesville and is most recently listed as a science teacher at William Monroe High School in Greene County.
Administrators at Greene County schools say they are taking steps to suspend her, and will cooperate during the investigation.

Ogilvie is scheduled to appear in Charlottesville General District Court on March 27 at 2 p.m.
Charlottesville Police Department Press Release
Charlottesville Police are investigating a report of a Burglary/Abduction/Assault that occurred at the home of Delegate David Toscano on 02/24/14.
Delegate Toscano's wife suffered non-life-threatening injuries as the result of this incident. She was treated at MJH and released.
Delegate Toscano was not at home when this incident occurred.
Arrested was Claire Kennedy Ogilvie, 35 of Charlottesville. Ms. Ogilvie was charged with Burglary, Abduction and Malicious Wounding and is being held without bond at the Charlottesville-Albemarle Regional Jail.
Ms. Ogilvie was known to Delegate Toscano and his wife. Police believe this in an isolated incident and it is still under investigation.
Statement from Delegate David Toscano
My wife was assaulted at our home last evening by a person who we knew but had not seen for over a year. She was struck by her female assailant in the head several times but never lost consciousness. The assailant broke into our home. Our son was not home at the time.
I returned from Richmond and brought her to the hospital. She was treated and released and is resting comfortably. A full recovery from her injuries is expected.
The assailant has been apprehended and detained.
Since there is an ongoing investigation, we will have no further comment at this time. We hope that our privacy will be respected, and we appreciate people keeping us in their thoughts.

Greene County Public Schools Press Release
This morning, the Charlottesville City Police notified the administration of the Greene County Public Schools that one of our employees had been arrested and was in police custody.
The police notified us that the employee has been charged with multiple alleged offenses. The police assured administration that the employee's alleged conduct, which reportedly occurred in the City of Charlottesville, did not involve any Greene County student or other employee.
At this point, school administration has not been notified of the specific details relating to the employee's alleged conduct which resulted in the arrest. Based on the information provided by law enforcement regarding the charges, administration has taken steps to suspend the employee from duties as provided for by Virginia law.

We understand the matter remains under investigation by the police. We will continue to monitor this matter as developments allow and as more information is made available to us. We will continue to cooperate with law enforcement to the extent our assistance is requested.
Sign Up for Email Alerts

Sign up to receive news, weather, and breaking news emails from the NBC29 newsroom in your inbox daily.

* denotes required fields






Thank you for signing up! You will receive a confirmation email shortly.