Volunteers Recreate Slave Cabin at Montpelier
Posted:
Updated: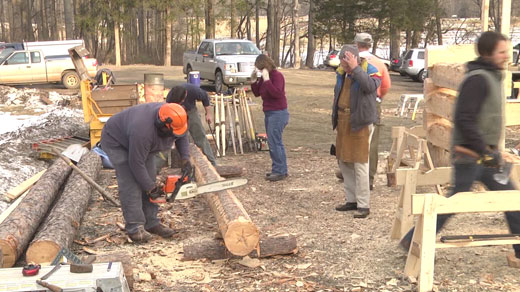 Volunteers work at Montpelier
Joseph McGill goes around the country staying in the homes of former slaves to bring awareness about a part of American history. McGill is calling it the "Slave Dwelling Project," and Montpelier is his most recent stop.
"I find enslaved dwellings across the U.S. and I ask the owners to spend the night in them," said McGill.
So far he has spent the night in 51 houses in 12 different states - including Connecticut and Pennsylvania.
"To bring attention to those structures, because we so long as Americans have neglected that part of the story, and the Slave Dwelling Project that I do brings attention to those structures," said McGill.
James Madison's Montpelier is next on the list.
"I thought coming here to the home of one of our founding fathers who himself was a slave owner where we can actually tell the story of that institution is a good thing," he said.
But this time, he's not just staying in the home - he's working to recreate it.
"I couldn't say no. It's an offer I couldn't refuse," said McGill.
McGill is one of dozens of volunteers who gave up their week to grab some tools and get to work.
"What they're learning is not only how to hew the logs and notch them and put them into a cabin that's authentic to the period, but also learning about how we are representing the enslaved community," said Matt Reeves, director of archaeology at Montpelier.
These efforts are part of a log cabin workshop. In 2010, archaeologists found remnants of slave quarters by the south yard of James Madison's mansion. From 2010 to 2014 they did a four year study of the enslaved community there. Now volunteers have tried to recreate that log cabin home.
Some of the timber frame buildings of house slaves have already been rebuilt right by the mansion.
"Those would have been the enslaved domestics," said Reeves.
But this new structure is different.
"Based on where the cabin is, where we found the archaeology of this cabin, it was probably either lived in by an enslaved gardener, someone who worked in the garden, or an enslaved stable hand," said Reeves. "What's kind of fun about this structure is it's in between the field and the house, so it's one of these roles not a lot of folks talk about."
Once completed, you'll be able to actually walk inside and get an idea of the size of the place. Reeves said eight to 10 people would have likely lived there.
"So that when visitors come, not only do they see James Madison's home, but they see the homes of the folks that made Montpelier possible - which is the enslaved community," said Reeves.
"For an institution such as this to be taking such an ownership of that story is such a good thing," said McGill.
The new cabin will stay at the place where it was built for the next week or so before being moved to its final location near Madison's house. People are always invited to go to Montpelier during open hours to walk the grounds and take a look at their work.
McGill plans to continue his work with the Slave Dwelling Project.
"There are a lot more stays in my future, I hope that other places will be as forthcoming and get out of their comfort zone and start telling the whole story of how this nation became a nation," McGill said.
For more on the Slave Dwelling Project, click here.
Sign Up for Email Alerts

Sign up to receive news, weather, and breaking news emails from the NBC29 newsroom in your inbox daily.

* denotes required fields






Thank you for signing up! You will receive a confirmation email shortly.