Roads Still Snow-Covered in Central Virginia
Posted:
Updated: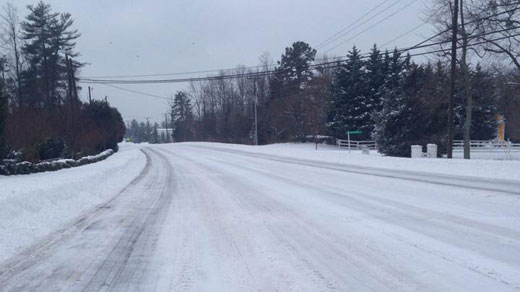 Hydraulic Road in Charlottesville
Thursday's weather meant non-stop shoveling and plowing for the city of Charlottesville, trying to dig out of more than a foot of snow in some places.

It was a busy day for Charlottesville Public Works Director Judy Mueller and her team at the city yard, who are keeping a close eye on the roads and their trucks as they paint red lines on roads that have been cleared and blue lines on those mostly secondary roads that haven't yet been touched.

Several drivers who didn't make it through Wednesday night's snowfall spent most of Thursday morning trying to figure out how to get their cars out of drifts that piled up on Route 29 in Albemarle County.
Getting to work Thursday wasn't easy - or even possible - for many. But for firefighters, a snow day isn't a day off. So, they are asking the public to help them keep the streets safe during this winter storm.
Snow piling up around fire hydrants throughout the city made it hard for crews to access them. The Charlottesville Fire Department is asking people to "adopt a hydrant." They need people to shovel away the snow from the hydrants so they are easy to access in case of an emergency.
Crews spent Thursday afternoon driving through the city clearing as many hydrants as possible.
"We will have an apparatus out this afternoon checking road conditions, looking at the hydrants to see if they are covered up because they do have equipment in the engines and ladder trucks that show where the hydrants are located," said Charlottesville Fire Department Battalion Chief Richard Jones.
City crews in Charlottesville are clearing the snow emergency routes Thursday evening, and all that snow has to go somewhere. The city also hired a private contractor, Linco Excavating, to help remove snow from those routes. They've been out since 1 p.m. working on High Street.
Crews are clearing not only the road itself but also the hourly parking spots. After High Street, crews will work on East Market, Water and West Main streets. They say it's easier to get the job done when no cars are out driving around.
"There's not a whole lot of traffic today; a lot of people are smart enough to stay home. We've had a few people who have come through but it's not bad. The roads and stuff are being kept up pretty decently," said Brian Estes, with Linco Excavating.
Crews are putting the snow in dump trucks, which will unload the snow in McIntire Park.
The excavating crews are working around the clock to get the snow emergency routes and parking spaces back open. They say the work should be done within 24 hours.

Molly Balkenbush, Henry Graff, Marcella Robertson and Rob Manch contributed to this story.
Virginia Department of Transportation Press Release
CULPEPER — The Virginia Department of Transportation made significant progress in clearing interstates and major highways across Central Virginia this afternoon but a second round of snow is now falling and some highways are snow-covered again. Interstate 64 on Afton Mountain in western Albemarle County and I-66 in western Fauquier County are both snow-covered. To the east both interstates are reported wet with patches of packed snow and slush.
Some primary highways along the Blue Ridge Mountains on the western border of the Culpeper District, including Route 29 in Albemarle and Greene counties, Route 33 west of Ruckersville and Route 522 in Rappahannock County, are also snow-covered and slick. Intersections, turn lanes and crossovers may still be snow-covered; VDOT will use tractors and other equipment to remove the snow from those areas as the storm cleanup continues.
Secondary roads in the region are reported in moderate condition, meaning that much of the road still snow-covered, or severe condition with significant accumulations of snow that make driving hazardous. VDOT crews are shifting their work onto those secondary roads as they continue 24 hour snow-removal operations, but some secondary roads may not be ploweuntiFridayay morning. Crews will continue to monitor conditions on the interstates and primary highways overnight and will shift equipment to clear those roads as conditions warrant. VDOT's goal is to make all state-maintained roads passable within 48 hours after the storm ends.
Travel may become hazardous again overnight when temperatures drop below freezing and the water and slush on the roads refreezes. This is a concern on all roads, even those that have been cleared to bare pavement, and motorists should be aware they may encounter black ice Thursday night and early Friday morning.
The winter storm is affecting most of Virginia with snow, sleet and freezing rain. Road conditions in different parts of the state may vary greatly and VDOT recommends that anyone considering travel check the conditions along their route and at their destination and plan their trip accordingly. VDOT's 511 travel website, www.511virginia.org, is updated in real time with weather and road conditions for all highways in Virginia. Once on the road VDOT's 511 mobile app provides real-time traffic and weather information for both iPhone and Android platforms. Travelers can also call 511 from any telephone in Virginia for real-time information on traffic and road conditions.
Sign Up for Email Alerts

Sign up to receive news, weather, and breaking news emails from the NBC29 newsroom in your inbox daily.

* denotes required fields






Thank you for signing up! You will receive a confirmation email shortly.