Former Gov. McDonnell, Wife Indicted on Federal Corruption Charges
Posted:
Updated: Feb 04, 2014 03:55 PM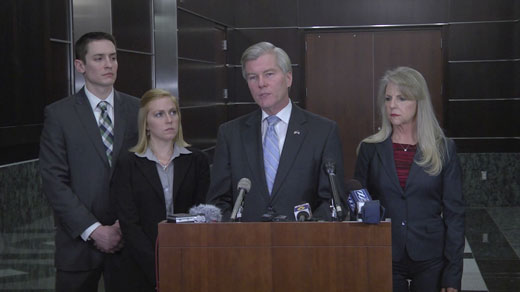 Bob McDonnell
Former Governor Bob McDonnell is ready to fight a case he says is built on "a misguided legal theory."
McDonnell says he never gave any special treatment to Virginia businessman Jonnie Williams in exchange for lavish gifts. But federal prosecutors disagree - and now the McDonnells' fate will rest in the hands of a jury.
McDonnell has been in retirement for just 10 days, and the gift scandal that dominated his final year in office has now become a full-blown federal corruption case. A grand jury handed down a 14-count indictment Tuesday, alleging McDonnell and his wife Maureen illegally promoted Virginia supplement maker Star Scientific in exchange for gifts from its former CEO, Jonnie Williams.
People close to the former governor say he was completely blindsided by the indictments, which were for everything from false statements to wire fraud. But McDonnell's defense team is already pushing back with allegations of its own.
"I never promised - and Mr. Williams and his company never received - any government benefit of any kind from me of my administration," McDonnell said.
The indictments come as McDonnell's former colleagues in the General Assembly work to reform Virginia's ethics laws, including a possible $250 cap on individual gifts and a state ethics commission.
"The governor's chef was our one-man ethics department, OK? Because we didn't have anything in the General Assembly to bring this under control," said 34th District Senator Chap Petersen (D).
But McDonnell is prepared to fight his charges. In court filings Tuesday afternoon, his legal team cited concerns that federal prosecutors withheld crucial evidence, which could help exonerate McDonnell.
"I hope that they have their case together, and if they're going to charge him with this that they really have something serious that we don't understand," said 11th District Senator Steve Martin (R).
If convicted, a jury could put the former governor and his wife behind bars for decades. But McDonnell says his fight is only just beginning.
"I believe the facts and the law are on our side, and we will face these false accusations with strength and firm resolve," McDonnell said.
The governor did not take questions after he spoke at a press conference Tuesday evening, and did not answer whether a plea deal had been offered. But it seems his defense is confident it can beat these charges.
Bob and Maureen McDonnell will make their first appearance in Richmond Federal Court for an arraignment hearing this Friday at 10 a.m.
Statement of House Republican Leadership on Governor Bob McDonnell:
RICHMOND, VA - Virginia House of Delegates Speaker William J. Howell (R-Stafford), House Majority Leader M. Kirkland "Kirk" Cox (R-Colonial Heights), Caucus Chairman Tim Hugo (R-Fairfax) and Majority Whip Jackson Miller (R-Manassas) issued the following statement Tuesday:

"We are very disappointed by the news today. We have all known Bob McDonnell for a long time. He is a good friend whom we deeply respect.

He has served his country and Commonwealth for nearly his entire adult life. We know that he has always strived to serve with the utmost conviction and integrity. Admittedly, he has made mistakes in judgment. He has apologized for those actions, which we know all Virginians deeply appreciate.

"We are a nation of laws. We believe in the rule of law and are confident in the ability of our legal system to render the rightful judgment, whatever it may be. That process must be allowed to run its course without interference or impediment."We are all praying for Governor McDonnell and his family during this difficult time."

Statement from Senator A. Donald McEachin:
"Today is a sad day for the Commonwealth of Virginia. If nothing else, this speaks to the urgent need for comprehensive ethics reform."

Statement from Governor Terry McAuliffe:
Virginia Governor Terry McAuliffe released the following statement today in response to the news that Governor Bob McDonnell and his wife Maureen are in receipt of federal indictments:
"I am obviously troubled by the charges that federal prosecutors have made against Governor McDonnell and his wife Maureen and the message that this period in our history sends about how government in this Commonwealth is run.
"As this case progresses, it is my sincerest hope that justice will be served and that Virginians get the answers to which they are entitled. As Governor, I will remain focused on leading this Commonwealth in a way that restores Virginians' trust in government and honors their expectation of transparency and accountability.
"I want to thank the many federal and state public safety officials who have worked on this case for their tireless and impartial efforts. Dorothy's and my thoughts and prayers are with the entire McDonnell family. This is a sad day for Virginia, but I remain optimistic that we can work together to reform our system in order to prevent episodes like this from occurring ever again."

Statement from Delegate David Toscano:
Delegate David J. Toscano, Democratic Leader in the Virginia House of Delegates, issued the following statement in the wake of the federal indictments of former Governor Robert McDonnell and his wife Maureen.
"This is a sad day for the Commonwealth of Virginia and the McDonnell family. While we often disagreed on policy, I enjoyed a positive working relationship with Bob McDonnell since I entered the House of Delegates in 2006.

To be sure, these are serious charges, and the Governor and his wife have the right to defend themselves in a court of law. These unfortunate events reinforce how critically important it is for the General Assembly to pass a bipartisan ethics reform bill this year – a bill that has real teeth in it."

Statement from Republic Party of Virginia Chairman Pat Mullins:
"Today's news is extremely disappointing. I've known Bob McDonnell and his family for a long time, and I have always been impressed with how he has worked to make our Commonwealth a better place for each and every Virginian. When I spoke to him earlier today, I told him the he and Maureen remain in my prayers."

"It is my fervent hope that the justice system will be allowed to take its course without sensationalism or partisanship. But these indictments are a reminder that our Commonwealth needs to enact ethics reform that promotes open and transparent government."
Sign Up for Email Alerts

Sign up to receive news, weather, and breaking news emails from the NBC29 newsroom in your inbox daily.

* denotes required fields






Thank you for signing up! You will receive a confirmation email shortly.