Central Virginia Prepares for First Major Snowfall of Season
Posted:
Updated: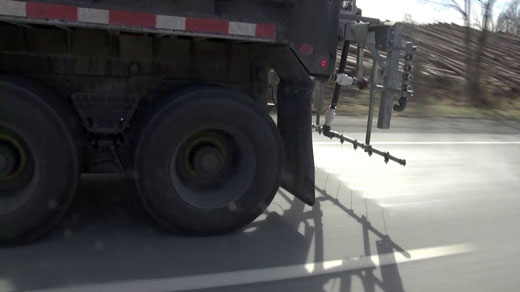 Tuesday could be the biggest winter blast central Virginia has seen all season. As we continue to track the potential snowflakes headed this way, crews and stores in the area are getting ready.
Virginia Department of Transportation crews have already been out but they aren't the only ones preparing for the worst. Employees at Martin's hardware store were busy Monday getting ready for the winter storm.
"We make sure everything is in position in case the snow is already here in the morning before anyone gets here," said Brian Cecil, who works at Martin's.
Some areas in Charlottesville could see up to six inches, a prediction that has many looking for salt and shovels. But others, like Emili Hays, set out for supplies to have a little fun in the snow.
"I am getting a sled because I have three little people - I have a 7-year-old, a 5-year-old and an almost-3-year-old who are really, really hoping for some snow tonight," she said.
VDOT was getting ready Monday by brining interstates and primary highways like Route 250 near Crozet. Road crews in Charlottesville also sprayed a brine solution to prevent the flakes from sticking to the roads. Charlottesville Public Works will have its employees on call Monday night into Tuesday to deal with the changing conditions.
The last time winter weather hit the area, Albemarle County police responded to more than 30 crashes. Police say this time around it's best to just stay inside - and if you can't, just be prepared.
"Allow yourself plenty of extra time so you don't have to travel fast you can really go slow and concentrate on the road conditions," said Carter Johnson, spokesperson for the Albemarle County Police Department.
Martin's and other hardware stores say they will be open Tuesday no matter what, but police say it's best to avoid the roads altogether if you can.
Virginia Department of Transportation Press Release
CULPEPER — The Virginia Department of Transportation is currently making its preparations for the winter storm that is forecast to affect Central Virginia Tuesday. Crews are pre-treating Interstate 64, I-66 and high-volume primary roads with brine and readying equipment and supplies. They will report for duty at midnight Monday.
When snowfall begins, VDOT crews will treat roads with sand to improve traction and salt to help melt the snow and ice and prevent it from bonding to the road surface. Operators begin plowing once the snow accumulates and the salt takes effect. Crews will focus their snow and ice control efforts first on the interstates and primary highways, then will shift resources to the secondary road system as conditions allow.
Up to seven inches of snow accumulation is expected throughout the nine counties of VDOT's Culpeper District, beginning in the early hours of Tuesday. The forecast is subject to change and residents are urged to check current weather and roadway conditions before they travel. Any unnecessary travel should be avoided or delayed until after the storm passes.
VDOT offers the following safety tips to the traveling public:
·Be prepared. Have emergency supplies in your car. Be sure your car is tuned up and ready for winter (check tires, antifreeze, windshield wipers, lights, heater, oil, etc).
·Be patient. Allow plenty of time to reach your destination, and keep a safe distance behind other vehicles. Don't pass a snowplow or spreader. Drive gently — don't slam on your brakes or jerk the wheel — to avoid your car spinning out of control.
·Be vigilant. Reduce speed. Pay close attention, especially when visibility is low. Be alert for tree limbs and other debris in the roadway. Never attempt to drive across or step over fallen utility lines. Always wear your seat belt.
Motorists should check VDOT's 511 travel website, www.511virginia.org, before leaving on a trip. The website is updated in real time with weather and road conditions for all highways in Virginia. Once on the road VDOT's 511 mobile app provides real-time traffic and weather information for both iPhone and Android platforms. Travelers can also call 511 from any telephone in Virginia for real-time information on traffic and road conditions.
Sign Up for Email Alerts

Sign up to receive news, weather, and breaking news emails from the NBC29 newsroom in your inbox daily.

* denotes required fields






Thank you for signing up! You will receive a confirmation email shortly.