UVA Students Plan Online Auction to Fundraise for Rotunda Restoration
Posted:
Updated: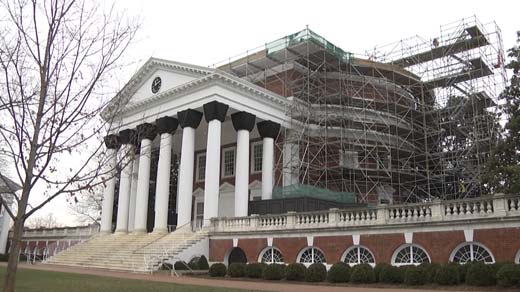 Rotunda restoration
University of Virginia Press Release
CHARLOTTESVILLE, Va., Nov. 25, 2013 RestoreUVA, a University of Virginia student organization, is holding an online auction through Dec. 5 to raise money to aid in the restoration of the University's historic Rotunda.
The Rotunda is the emblem of the University and when it is not pristine, it is not showing that symbol in the best light, said Reid Morin, a second-year mathematics and economics major in the College of Arts & Sciences and the current chair of RestoreUVA.
The group's first auction, held last fall, raised $12,500. This fall's auction, which opened Tuesday, is offering a wide array of items, including a swimming lesson with Olympic gold medalist and 2011 alumnus Matt McLean; a private, catered dinner for 20 in the Rotunda's Dome Room (the most sought-after item in previous auctions); lunches with some Pavilion residents; an opportunity to ?Create and Name Your Own Little John's Sandwich?; and many other experiences, local art and artifacts.
This is open to alumni, community members, students, parents ? we want to get as many people involved as possible,? Morin said. ?We have a range of items, so we haven't priced out the students, but we?re also looking for the alum who has not been here for a while and maybe would like to have a reunion lunch with a favorite professor.?
One of the more unique adventures being offered is lunch with economics professor Kenneth G. Elzinga at Michie Tavern and Elzinga will drive the successful bidder and two friends there in his 1968 Mustang Fastback.
Morin said he and the other members of the group built the online auction platform and used it last year for the first time. Morin anticipates a flurry of bids in the beginning and at the end of the auction, but he said they plan to entice different groups to bid on specific items to keep interest up during the middle of the process.
We're going to be marketing items, Morin said. ?For example, for lunch with history professor Gary Gallagher (a noted Civil War expert), we're going to approach some Civil War clubs and see if they want to bid.?
Morin hopes that, after expenses, they can raise at least $20,000 to turn over to the University Advancement Office.
Philanthropy isn't just about giving money, Morin said. ?It's about building community and working together for the benefit of all.?
Other members of Restore UVA include: Danny McCabe, from Fairfax, a third-year finance major in the McIntire School of Commerce; Ryan Gregory, from Chantilly, a third-year economics and Eastern European studies major in the College; and Hunter Leath of Suwanee, Ga., a second-year computer science major in the School of Engineering and Applied Science, who handles the technology for the organization.
For Morin, of Virginia Beach, it is also a personal mission.
I came here on a school field trip in middle school and saw the Rotunda without the black covers over the capitals, he said, referring to the material wrapped around the tops of the Rotunda columns to prevent their further deterioration. ?The Rotunda is the centerpiece of the University and the heart of founder Thomas Jefferson's Lawn and Academical Village. I want to see that way again.?
To visit the auction site, click here.
Sign Up for Email Alerts

Sign up to receive news, weather, and breaking news emails from the NBC29 newsroom in your inbox daily.

* denotes required fields






Thank you for signing up! You will receive a confirmation email shortly.