State Certification Keeps Herring Ahead in VA AG Race
Posted:
Updated: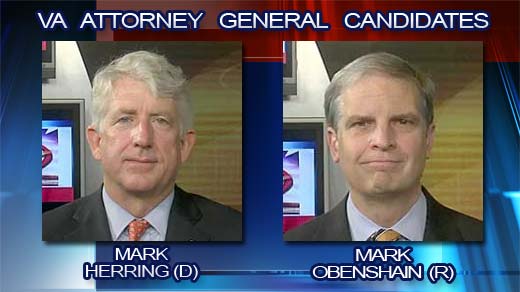 State Board of Elections set to certify Attorney General race votes
Nearly three weeks after the polls closed, Democrat Mark Herring is now officially the winner in the race for attorney general. But one member of the State Board of Elections is questioning the way some ballots were counted, as talk of a recount intensifies.
Certifying the official election results Monday morning in Richmond, Board of Elections Chairman Charlie Judd said he was doing so "with question," concerned with the way some localities counted provisional and absentee votes.
Terry McAuliffe, Ralph Northam, and Mark Herring are officially certified as the winners of the 2013 statewide elections. It's a Democratic sweep, with a question. Judd, a Republican, raises concerns over election data, citing a lack of uniformity in how provisional and absentee ballots were counted in different parts of the state.
"Our guidelines are very clear. If a local board chooses to disagree with them, and in fact vote to disagree with them, which happened in Fairfax County, then I have a little bit of an issue with that and I think we need to sit down with them and talk about it," Judd said.
Despite political differences, Vice Chair Kimberly Bowers, a Democrat, agrees the board should ensure elections are carried out the same way across the commonwealth.
"It's really just the pure and sanctity of what we're actually counting, and counting apples to apples is very important for us," Bowers said.
The board will take up the issue at a meeting next week, as Republican Mark Obenshain decides whether he'll ask for a recount in the race for attorney general. Obenshain has 10 days to request a recount, and said Monday in a statement that decision is "not one to be made lightly."
He lost to Herring by just 165 votes, making it the closest race in modern Virginia political history.
Herring for Attorney General Press Release
Attorney General-elect Mark Herring released a statement following the State Board of Elections certifying him as the next Attorney General of Virginia:
"I am gratified that the State Board of Elections today certified me the winner of a close but fair election. I look forward to serving the people of Virginia as Attorney General. I want to thank and commend the State Board, local voter registrars and election officials, their extraordinary staff and volunteers for their diligent and professional work to bring this historic election to a close. There is no greater American duty than to simply ensure that every voter may freely exercise his or her right to vote, and no greater American tradition than to make sure that that vote is counted.
"Today, we move forward to tackle some of the unique challenges of our era which fall under the auspices of the next Attorney General of the Commonwealth of Virginia. Our guiding principle will be to put the law and Virginians first, instead of adherence to extreme ideology. In the areas of public safety, veterans services, civil rights, consumer and small business protections, and ethics in our public sphere, significant progress can and will be made for Virginians."
Obenshain for Attorney General Press Release
RICHMOND – Mark Obenshain for Attorney General Campaign Manager Chris Leavitt issued the following statement regarding the Completion of the State Board of Elections vote tally.
"With the completion of the State Board of Elections vote tally, this initial count shows the narrowest percent vote differential of any U.S. statewide race in the 21st century and the closest statewide election in modern Virginia history. We're all grateful for the election officials and volunteers across Virginia who have worked overtime as this tabulation of votes is completed. As it currently stands, the 165 vote margin out of more than 2.2 million votes cast is well within the margin that could be potentially closed in a recount. There have been four statewide elections in the U.S. since 2000 that finished within a 300 vote margin. In three of those four statewide elections the results were reversed in a recount.
"Over the next few days, we will continue to review these results. Margins this small are why Virginia law provides a process for a recount. However, a decision to request a recount, even in this historically close election, is not one to be made lightly. Virginia law allows ten days to request a recount. We will make further announcements regarding a recount well within that time, in order to ensure the closure and confidence in the results that Virginians deserve."