Virginia Tech AD Jim Weaver to Retire December 31st
Posted:
Updated: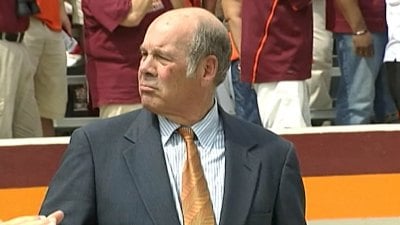 BLACKSBURG, Va., Nov. 12, 2013 – Virginia Tech Athletic Director Jim Weaver will step down as department head of the university's intercollegiate athletics unit, announced President Charles Steger.

"We have been fortunate to have Jim's strong leadership for more than 16 years at the athletics helm," said Steger. "He has significantly expanded the program's size and quality winning in competition and in the classroom. Financially, we are in very good condition. Jim is highly respected in the profession. I regret to see him leave this role. However, this is a demanding job. Jim's health precludes him from maintaining the same commitment and devotion he has shown since arriving here in 1997."

"I have had the pleasure of serving a great university and working with outstanding staff and coaches. I am very proud of our many accomplishments. We compete and win, said Weaver. "We have some of the nation's best fans and, most importantly, our students graduate with a first class education. However, leadership of this important university role requires active engagement. I am not able to do that at this time. The department is in good shape, but I am not. So, Dr. Steger and I agree that now is the right time to seek my replacement," said Weaver.

During Weaver's tenure the university significantly expanded and improved athletic facilities. The Merryman Center sports medicine and conditioning complex was completed in 1998. The Lane Stadium South End Zone expansion added almost 12,000 seats in 2003 and in 2006 the West Side expansion brought club seats, luxury boxes, and office and academic spaces for the athletic program.
A state of the art basketball practice complex, the Hahn Hurst Practice Facility was completed in 2009. Improvements were made to softball, English Field, the soccer and lacrosse fields among many others.

Of course, the university achieved a half-century long goal by joining the Atlantic Coast Conference 2003 beginning play in 2004.

"I am exceedingly pleased to see Jim's emphasis on all-around excellence seeking competitive teams in non-revenue sports, in addition to our outstanding play in revenue sports," said Steger. "He has demonstrated an unwavering commitment to academic accomplishments. Indeed, just last month the NCAA release data showing the Virginia Tech has the highest graduation rates among public schools in the ACC."

Ray Smoot, former chief executive officer of the Virginia Tech Foundation, will chair a national search for the next athletic director. Smoot also chaired the director's search in 1997.
The university expects to name a replacement early in 2014.

Sharon McCloskey, senior associate athletic director, will serve as interim athletic director effective Jan. 1, 2014.