Dawbarn Awards Recognize Adults Who Encourage Youth
Posted:
Updated: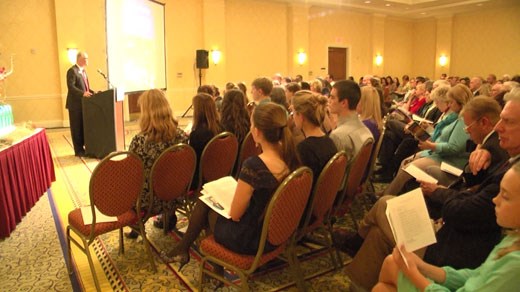 Educators, a cafeteria manager, and a mentor were among those recognized Monday in the valley for their commitment to fostering learning for young people.
After 20 years and more than a million dollars given, the Dawbarn Education Awards continue to celebrate those who inspire kids to strive for excellence. Monday night at the Stonewall Jackson Hotel, 10 men and women from Staunton, Waynesboro and Augusta County received $10,000 each with the stipulation that it must be spent on themselves.
Jill Clark, a dedicated mentor at People Places in Staunton, was nominated by former protégé Renee Hummell, who says Clark goes above and beyond.
"She's lifting us up and encouraging youth all around the area, just to do better and to do more," Hummell said.
"If you just make a difference in a child's life for 30 minutes out of a week, that's why you do it," Clark said.
The other award recipients were Annette Bess, Amy Neal Bussey, Heather Davis, William Deardorff, Carroll J. "CJ" Hill Jr., Susan Maxwell Jenny, Mary Mawyer, Susie Shreckhise, and Ruth Shaia Thompson. All 10 will have the chance to treat themselves to something worth $10,000.
Clark is spending her award money on a Bahamas cruise.
Community Foundation Press Release
Staunton, VA – On November 11th at 5:30 pm, the Community Foundation presented ten prizes totaling $100,000 during the 20th Annual Dawbarn Education Awards ceremony. With nearly 200 guests in attendance at the Stonewall Jackson Hotel and Conference Center, the Community Foundation honored each of the ten recipients, sharing their inspiring stories and giving each of them a check for $10,000.
H. Dunlop "Buz" Dawbarn established a permanent fund at the Community Foundation in 1992 to support the Dawbarn Education Awards in perpetuity. Since that time, the fund has provided over $1,000,000 in awards to individuals who have demonstrated an extraordinary commitment to inspiring belief in the importance of education and learning, encouraging good citizenship and personal responsibility, and fostering high standards of achievement in learning among the young people of our public schools.
"The Community Foundation exists, in large part, to make the best ideas for our community a reality," noted Dan Layman, the foundation's CEO. "Mr. Dawbarn's idea for the education awards is one of the best examples of that notion, and we take tremendous pride in continuing his legacy of commitment to our community."
The Community Foundation of the Central Blue Ridge is a non-profit organization that provides a simple, powerful, and highly personal approach to giving back to the community. As one of the largest philanthropic institutions in the region, it is committed to careful stewardship and thoughtful investment in our community's future. With almost $15 million in assets, the Community Foundation distributes more than $500,000 annually to the community in awards, grants and scholarships. "We work with individuals, families, non-profit organizations and others to establish permanent charitable legacies to respond to needs in the cities of Staunton and Waynesboro, and Augusta, Nelson, and Highland Counties of Virginia," added Layman.
2013 Dawbarn Education Award Recipients
Annette Bess – Cafeteria Manager at Wenonah Elementary School
As cafeteria manager at Wenonah Elementary School since 1991, "chef" for its site-based after-school program and head cook at a local Boy Scout summer camp, Annette Bess touches the lives of children and adults on a daily basis, filling stomachs and nourishing souls.
Mrs. Bess's daily interactions with students and staff as they go through her lunch line allow her to know each child by name and share an encouraging thought or warm smile. In Wenonah's after-school program, Mrs. Bess provides a daily hot meal for students and interacts with them during activity and academic time. Her involvement shows students that she cares about them beyond the school lunch line.
Amy Neal Bussey- Drama and English Teacher at Stuarts Draft High School
Amy Neal Bussey is the Drama and English teacher at Stuarts Draft High School, and is also involved with teaching and mentoring youth through local theatre organizations. Each year she directs six productions at SDHS.
Her principal explains that she is the type of individual every high school in America wishes they had – dedicated, fun, positive, motivated and truly wanting to make a difference in students' lives. She is an amazing educator and is dedicated to her passion of teaching Theatre. When asked about her motivation to do what she does, Mrs. Bussey replied, "I believe in kids. I care deeply about them. Theatre and Literature are what I know and love, so that is what I can use to connect with and excite them."
Jill Watson Clark – Mentor at People Places, Inc. and teacher's aide at Pygmalion School
Jill Watson Clark shares many similarities with Mr. "Buz" Dawbarn through her dedication and encouragement for young teens in our community since she moved to the Valley in 1981. Over the past several years, she has been honored as Waynesboro's Outstanding Woman of the year for her volunteerism that has spanned decades, by her church with a Special Mission Recognition Award for her untiring efforts on the behalf of children, and by the mental health community through her role as a mentor at People Places. She was on the steering committee that brought a Boys and Girls Club to the area and has donated thousands of hours in the start up and running of that club.
According to her nominator, she educates, she informs, she gives us choices and amazing opportunities.
Heather Davis – Chemistry Teacher and Science Team leader at Robert E. Lee High School
Heather Davis is a Chemistry teacher and Science Team leader at Robert E. Lee High School. Her emphasis is always on student achievement, welfare and success. According to one of her nominators, "It is very easy to see how caring and committed she is to the success of all our students and the continued success of the school. She is a leader within the school and has proven to be an excellent teacher and a wonderful mentor for students and staff alike."
The most telling characteristic that sets her apart from others is her genuine desire for every student in the school to be successful, even those beyond the walls of her classroom.
William Deardorff – Principal at Buffalo Gap High School
Not only is Mr. Deardorff the principal of Buffalo Gap High School, he is the steadfast leader of the Buffalo Gap community. In his 50 years as an administrator, Mr. Deardorff has assisted more than 8,000 students throughout their educational journey and helped them attain a high school diploma. It is not often that we are able to recognize and celebrate a community member who has made such an impact on the lives of so many. Each day of his career he has dedicated to serve as the temporary guardian of his students as well as to be their teacher, coach, friend, colleague, disciplinarian, counselor and protector.
Carroll J. "CJ" Hill, Jr. – English Teacher at Kate Collins Middle School, Waynesboro
As an English teacher at Kate Collins Middle School in Waynesboro, CJ Hill successfully teaches even the most hesitant students to enjoy reading and writing as they catch his enthusiasm for the subject. Mr. Hill was also the Kate Collins and Waynesboro Teacher of the Year. His instructional practices reach students on all parts of the intellectual spectrum and the products act as proof that he encourages students to reach their full potential. The students' overwhelming affinity and respect for Mr. Hill then act as proof that their full potential includes more skills and traits than those which are purely academic.
A parent wrote, "My first impression of Mr. Hill was that of a person who was exceptionally knowledgeable and passionate about his subject area. Seldom have I encountered teachers who were as well-equipped and truly passionate about their work and subject area as Mr. Hill. "
Susan Maxwell Jenny – AP Calculus and Engineering at Shenandoah Valley Governor's School
Susan Jenny is the AP Calculus and Engineering Teacher at the Shenandoah Valley Governor's School. According to the Program Director at SVGS, "In 23 years of education, I have been fortunate to work with wonderfully talented and passionate teachers. However, Susan Jenny is simply one of the best. Extremely intelligent, Susan has the incredible ability to translate her own personal excellence to students with great care and love."
Susan is loved by students, but not because she is an easy teacher. Students commented that 'Mrs. Jenny makes a complex subject understandable. She constantly challenged, taught and tested us at the highest level. She was very empathetic to our needs and thoughts and helped us become professional students. She makes students believe they will be successful in AP Calculus and they trust her.'
Mary Mawyer – Fourth Grade Teacher, Hugh K. Cassell Elementary School
Mary Mawyer is an outstanding teacher, coach, and community leader. Both in and out of the classroom, she has had an impact on the lives of hundreds of children and adults. Mrs. Mawyer has been a first, second and fourth grade teacher in Augusta County for over 25 years. Mrs. Mawyer has a special affection and rapport with students with learning challenges and special needs, and these students provide her with the opportunity to shine. Her instruction is filled with the use of research-based best practices, including multimedia, multisensory, and manipulatives. She effectively uses humor and storytelling to make obscure topics interesting and relevant. Mrs. Mawyer's compassion for children is her trademark. She goes beyond the call of duty with each child. She consistently encourages children to be the best that they can be. She encourages a team approach to her classroom and uses a coaching paradigm with her students.
Susie Shreckhise – Third Grade Teacher, Clymore Elementary School
Susie Shreckhise was the 2013 Augusta County Teacher of the Year. According to her nominator, "It is apparent that Mrs. Shreckhise goes above and beyond what is expected of her as an educator. After thirty-three years of teaching, Mrs. Shreckhise still comes to work with a positive energy and determination to encourage and inspire the students she works with each day. Her classroom is bright, warm and inviting and she has an excellent relationship with colleagues, parents and students. She genuinely has a love of learning and children and this is evidenced by her successful teaching career."
Her principal explains, "Mrs. Shreckhise's thirst for knowledge reaches beyond her classroom as she encourages and shares information with colleagues. She has the enthusiasm of the first year teacher and the expertise of her thirty-three years of experience."
Ruth Shaia Thompson- Special Education Teacher, Shelburne Middle School, Staunton
"Outstanding teachers have remarkable gifts." Ruth Thompson, a teacher at Shelburne Middle School and Staunton City School's Teacher of the Year has demonstrated her gift for reaching and motivating students in whatever role she serves. According to her nominator, Ruth exemplifies the Dawbarn Award criteria of encouraging, inspiring and fostering youngsters to meet their full potential, to set educational goals, and to love learning.
Her assistant principal writes, "She breezes into Shelburne with a broad smile splashed across her face, a laugh that comes straight from her heart, and an encouraging word for everyone as she heads towards her classroom. Ruth teaches students with severe physical and mental disabilities. Because of the challenges they face to communicate even basic needs, they can become frustrated and overwhelmed. That's when Ruth's skills as a worrier, a tenacious puzzle-solver, and a positive force of nature aid her in being the perfect teacher for her kids."
Sign Up for Email Alerts

Sign up to receive news, weather, and breaking news emails from the NBC29 newsroom in your inbox daily.

* denotes required fields






Thank you for signing up! You will receive a confirmation email shortly.