Conference Sheds Light on Slavery's Legacy at Virginia Colleges
Posted:
Updated: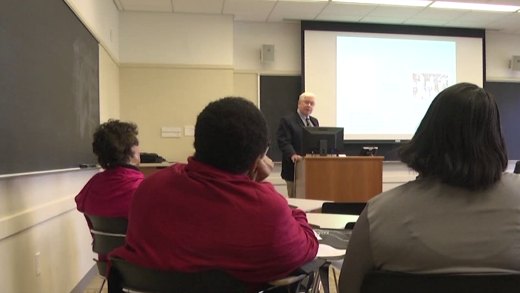 A first of its kind conference at the University of Virginia is shining light on slavery's legacy at Virginia's colleges.
Representatives from schools across the commonwealth took part in Saturday's dialogue hosted by the University and Community Action for Racial Equality, or UCARE.
More than 130 faculty, students, administrators and community members were a part of the conversation on what some call a troubling past. The event brought people of all walks of life to the table - including the descendants of slave owners and slaves from Virginia.
Phoebe Kilby and Betty Kilby Baldwin are connected through their family's past.
"I am a descendant from slaveholders here in Virginia - Rappahannock County and in 2007, I decided I needed to do something about this and I contacted Betty Kilby-Baldwin who is a descendant of my family's slaves," Kilby said.
The pair came to the inaugural Virginia universities and race histories conference to speak on the topic of "Coming to the Table" - where descendants of slaves and their owners could carve a path to peace.
"By talking about it and working through issues, getting to know Phoebe, I was able to let go of some hate," Kilby-Baldwin said.
Saturday's conference consisted of presentations and breakout sessions - looking at different perspectives on slavery. Keynote speaker Craig Wilder believes there will be real rewards in the end from having this honest conversation.
"I hope that one of the things that they're getting from this and one of the things that their involvement actually begins to signal is that we as a nation, as a society are ready for more complicated nuanced and difficult conversation about slavery and our history and race in our past," Wilder said.
It's a dialogue that's led to healing for the Kilbys.
"We have been working to reconcile our families and to heal from the wounds of the past and for me to work on making amends for what my family did," Kilby said.
Organizers say the conference is timely with UVA president Teresa Sullivan's recent appointment of a commission on slavery.