UVA Study Measures Effects of Head Trauma in Sports
Posted:
Updated: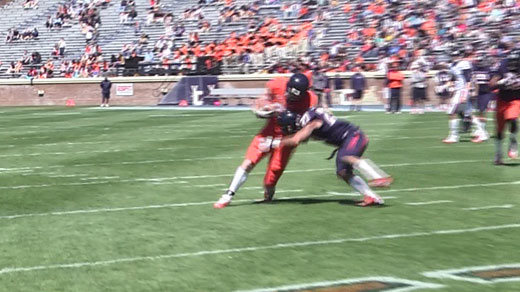 The University of Virginia is tackling the problem of sports head injuries and concussions. A new study there measures the effects of head trauma in football, lacrosse and soccer.
In prior studies, players wore sensors in helmets. But in this one, UVA football players and some high school athletes are wearing sensors behind their ears while they play. Researchers hope to figure out how trauma affects the brains of young players.
"We are seeing this epidemic right now where we are talking about professional athletes who at the tail end of their careers are experiencing dementia or other debilitating consequences of being hit over the head," said associate professor Jason Druzgal, M.D.
Researchers at UVA are learning how to avoid those injuries with a high-tech test that tracks student athletes from UVA's football team and high school students from Saint Anne's Belfield in Albemarle County.
"We are measuring how the skull will move and those forces that are transmitted directly to the brain," said assistant professor Howard Goodkin at the UVA Medical Center.
The players were given an MRI at the beginning of the summer. Then, during practices and games, the players wear the small sensors behind the ears.
"The sensor we are using is placed right on the head behind the ear," Goodkin said.
After the sensors are removed from the necks of the players the information is downloaded to a database that will be compared to MRIs at the end of the season. That will allow the researchers to correlate the hits with changes in the brain. The overriding goal is prevent permanent injury like dementia.
"We are starting to look at players at the front end of their career hopefully at a time that we can make changes in what they're doing if in fact they are at risk for having problems down the road," Druzgal said.
The doctors NBC29 spoke with said if the sensors are successful it is possible they will become part of the game, like mouth guards or knee pads.