Republican Candidates Make Final Push in Albemarle before Election Day
Posted:
Updated: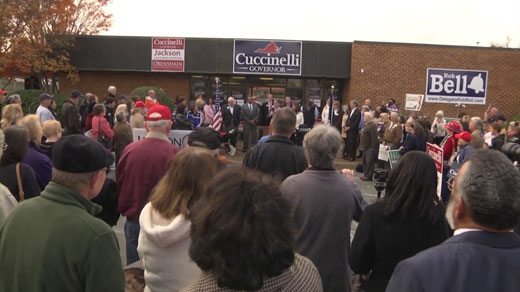 The only poll that matters now is Tuesday's as voters make their decision in three big statewide races. Virginia voters will decide who will be their next governor, lieutenant governor and attorney general. The races are being watched carefully around the nation as a litmus test for Republicans and Democrats.
The trio of Republican candidates at the top of the ticket were in Albemarle County Monday afternoon. They're working to make the most of their last day on the campaign trail - saying votes, not polls, matter now.
"We've been carrying a positive message around Virginia for a long time and it's been resonating and people are rejecting the negative attacks of the opposition," said Mark Obenshain, Republican candidate for attorney general.
"As people focus on the details of this race, whether it be economic opportunity and taxes or whether it be Obamacare, they're coming our way. The truth is our friend here," said Ken Cuccinelli, Republican candidate for governor.
But pre-Election Day poll numbers would suggest Democrats have the leg up. Monday's Quinnipiac University poll shows Democrat Terry McAuliffe six points ahead of Cuccinelli.
"Polls this late are pretty useless. Polls are such long trailing indicators. The only one that matters at this point is Election Day," said Cuccinelli.
"You can never tell what you're going to have happening with the polls. I am excited. I believe in both of these men as I said, all the men that are running. They are good, decent, honest people we can trust," said Jane Varga, GOP supporter.
Republicans say that Democrats have been so busy running a negative campaign that they haven't talked about anything positive they will do. Cuccinelli says McAuliffe has lied about his stance on contraception.
"My opponent is a Washington, D.C., lawyer. He knows very well that states cannot block contraception from individuals and that I never have and I won't as governor," said Cuccinelli.
Ken Cuccinelli says to win this race, supporters will need to step outside of their comfort zones in the next 24 hours and hit the ground game hard - knocking on doors and working the phones.