World War II Veterans Honored at Ceremony in Keswick
Posted:
Updated: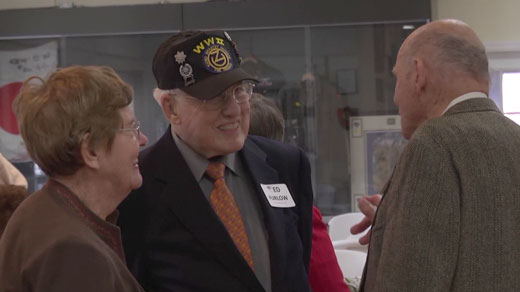 WWII veterans honored in Keswick
Those who fought in World War II are often considered to be this nation's greatest generation. Monday, those who served are being remembered, honored, and given the chance to share their experiences from many years ago at an early Veterans Day gathering in Keswick.
Many of the veterans had never shared their stories in front of a large group, but were given the chance at the American Legion Hall Monday. The people who attended were all former members of the Virginia Department of Forestry so they felt comfortable telling their tale to old friends.
Some veterans don't readily talk about their combat experience. Larry Cabell, who organized the event, says he wanted to change that when he realized many of his friends had served and had stories to tell.
"I was talking with one of the veterans. I've known him for 50 years and I was not aware of his military activities and I found it very interesting and I thought to myself, sometime these guys ought to be honored for their services," said Cabell.
They received that honor with a salute and a standing ovation from their fellow veterans and Virginia Department of Forestry retirees Monday.
Milton Morris had three brothers in the war, and he recounts a horrific story one of them told.
"I had one brother tell one line one time and I could see him tear up, and I never asked him another thing, because he said they had children shooting at him from trees. Boys and girls," said Morris.
One veteran who served in Africa and Italy says to come back after the war and find a job in the Virginia Department of Forestry with these life-long friends made his life worth living.
"I was overjoyed when I got the job with the forestry service in 1947 and worked 20 years and had a wonderful life," said Ray Duncan, a veteran.
Morris says after all these years, these men are still soldiers at heart.
"They're still proud to have done their service to this country," said Morris.
In total, 10 World War II combat veterans took part in Monday's ceremony. It was all sponsored by the Virginia Department of Forestry Retiree group.