Charlottesville Residents and CRHA Near Settlement
Posted:
Updated: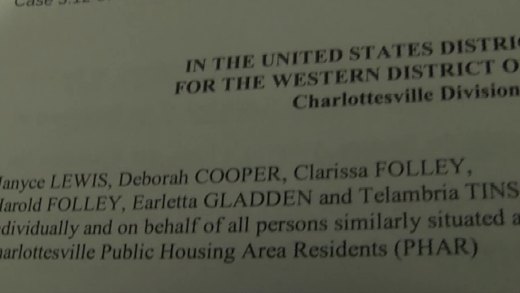 People who live in public housing in Charlottesville may soon get money back from the city's Redevelopment and Housing Authority.
The CRHA has agreed to pay more than $96,000 to tenants if a court approves a settlement Monday. The court will decide whether to approve the settlement agreement. But this case began when one woman figured out she had been unfairly treated.
"I kept getting very high, excessive electric bills and so I was wondering, well, they allow me a certain amount, how are we going over to the point of a hundred and something dollars?" Janyce Lewis said.
Lewis lived in Westhaven public housing when she discovered most of her neighbors were paying electric bills that seemed excessive.
"So I was like, okay something needs to be done about this," she said.
Lewis contacted Brenda Castaneda - an attorney at Charlottesville-based Legal Aid Justice Center. Castaneda's investigations led her to file a class action lawsuit against the CRHA.
"We found that some months 90 percent of people were paying extra," Castaneda said.
After months of mediation, CRHA agreed to a settlement. On Monday, a federal court judge is expected to decide whether the terms are fair.
"There's about $96,000 that's going to be distributed to people who paid excess utilities sometime within the last six years," Castaneda. "I know that some people will be getting a thousand or more back, some people it may just be a couple hundred."
Lewis doesn't know how much she may receive but says this battle wasn't about the money.
"The good part that I feel about it is because I stood up for my rights. I spoke up and I am making a change for everybody in the communities," she said.
Legal Aid says that if the court approves the agreement Monday and the eligible tenants agree to its terms, CRHA will start paying out money as early as this spring.