Cville Albemarle Historical Society Honors JFK with Exhibit
Posted:
Updated: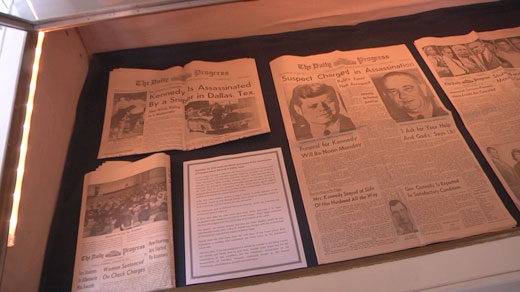 The Charlottesville Albemarle Historical Society is honoring the life and legacy of the nation's 35th President, John F. Kennedy. To mark the 50th anniversary of JFK's assassination, the society set up an exhibit featuring copies of the Daily Progress from the day of the tragedy.
The exhibit also features reactions from immediate members of the Kennedy family who lived in Charlottesville.
"This is how people reacted to it locally, so in that regard it's kind of significant. Not only documenting the death of a president, but how the local media responded to the coverage of that event," said Steven Meeks, the historical society's president.
There is also a book for visitors to write their memories of that day. The exhibit is on display at the Charlottesville Albemarle Historical Society at 200 Second St. NE in Charlottesville. It will be open to the public until December 7.
---
Editor Note: This story has been updated to include the address of the Charlottesville Albemarle Historical Society.