School Leaders, Legislators Talk Money at Dinner Meeting
Posted:
Updated: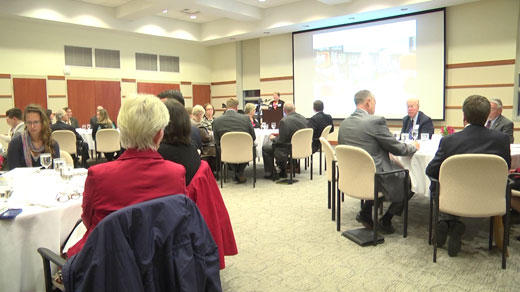 For the first time in years, valley school leaders and state and federal legislators sat down to dinner and then talked about the issues Wednesday night. The conversation, held at Blue Ridge Community College in Weyers Cave, involved seven school districts including Staunton, Waynesboro and Augusta County.
Two issues shared by the districts were accountability and money - especially money. Augusta Schools Superintendent Chuck Bishop says they need more of it.
"Over the last few years, since '09, we've lost about $600 per pupil, and we know we're going to be faced with some VRS increases this year. For Augusta County alone it's an order of magnitude of about $1.4 million," Bishop said.
Dickie Bell, 20th District delegate, says the schools get a third of the state's money and there's just not enough, especially with the cost of health care.
"I don't know that there's going to be enough money anytime soon without some kind of dramatic tax increase, and that's just not going to happen," Bell said.
But when it comes to accountability and assessment, both parties agree there are too many tests.
"Our students take 34 SOL tests over a nine-year period and we just feel like that's too much. And there has to be a better way to assess student achievement," Bishop said.
Bell said, "We already have plans in our caucus to continue the education reform agenda and that's at the top of the list, to address SOL reform and to try to pare down at least the number of tests."
Those in attendance also agree that they have a much better chance of accomplishing their goals by working together.
"I don't have the answers. I think we come a lot closer to accomplishing something in that realm if we're talking about working together rather than one side just saying we need more money, we need more money," Bell said.
The other districts represented at the meeting were Rockingham, Page, and Shenandoah counties and Harrisonburg. Delegate Steve Landes encouraged Staunton, Waynesboro and Augusta County to consolidate services regarding transportation, food, and maintenance.