Weyers Cave Bank Robbery Suspect Arrested
Posted:
Updated: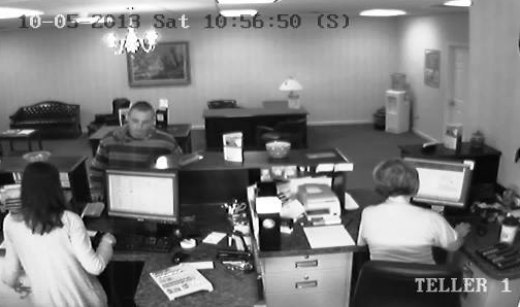 Surveillance photo from United Bank on Franklin Street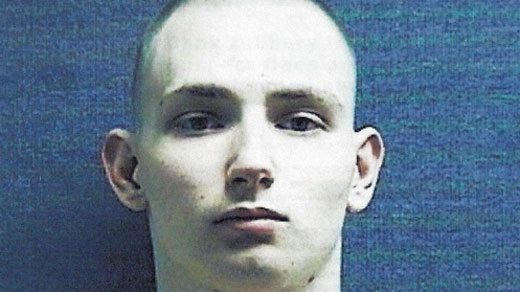 George Gaunt
Augusta County Sheriff's Office Press Release
On Saturday, October 5, 2013, at approximately 11:00 AM, The Augusta County Sheriff's Office received a bank alarm from the United Bank, located at 54 Franklin Street in Weyers Cave. As deputies responded to the alarm, tellers at the bank confirmed that an armed robbery had just occurred.
The lone suspect had entered the bank and presented one of the tellers with a note announcing a robbery and stating that he was armed with a firearm and would kill all present if his demands were not met.
After obtaining cash, the suspect fled on foot and was last seen heading west towards the area of Route 256 and Interstate 81.
Augusta County Sheriff's Office K-9's units responded to the scene and tracked the suspect away from the scene, but it is believed that the suspect possibly entered an unknown vehicle.
The Augusta County Sheriff's Office sent the information from this incident out via a statewide broadcast and submitted the case into a national data sharing network. As a result, on October 9, 2013, the robbery of the United Bank was linked to a bank robbery that occurred on October 8, 2013 in Henry County Virginia. As the investigation continued, on October 15, 2013 police in Blue Earth County Minnesota made an arrest on a suspect after a bank robbery in their jurisdiction.
This suspect has been linked to both Virginia bank robberies and an additional bank robbery in Linn County, Iowa that occurred on Saturday October 12, 2013.
The following individual is suspected in all four bank robberies and has been in custody in Blue Earth County, Minnesota since October, 2013 while the investigation continued with local, state and federal authorities: George R. Gaunt, a 25-year-old white male who resides at 1700 West Chesnut Street in Louisville, Kentucky.
As a result of this investigation, on October 16, 2013, the Augusta County Sheriff's Office recovered a vehicle that was reported stolen from Louisville, Kentucky at a motel in the city of Staunton. It is believed to be the vehicle Gaunt operated during the October 5th robbery of United Bank in Weyers Cave.
The Augusta County Sheriff's Office is working closely with the Henry County Sheriff's Office, the Federal Bureau of Investigation and authorities in Kentucky, Iowa, and Minnesota to coordinate further criminal charges on Gaunt.