Entrepreneurs Pitch Ideas for 'Jumpstart Waynesboro'
Posted:
Updated: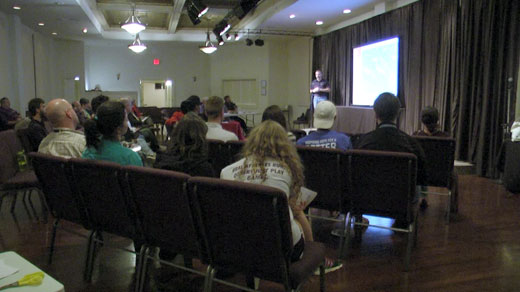 There's nothing like a little healthy competition to bring out Waynesboro's creative minds and entrepreneurial spirit.
Tuesday night began Jumpstart Waynesboro, a collaborative effort between the Waynesboro Economic Development Office and the Staunton Creative Community Fund. Dreamers took to the stage one by one, each with five minutes to wow judges with their ideas, working for a first-place prize of $7,000 or a second-place prize of $4,000.
Vanessa Dunlap's idea was built around a love of coffee.
"Now can everyone remember their first kiss? I can honestly say I cannot, but I can tell you where my first cup of coffee was," she said.
Dunlap plans to open a coffee shop in the coming months, but it's really more than just a coffee shop.
"I specifically make fresh-baked donuts to pair with whatever I'm brewing, because it's in the pairing that everything actually tastes better," she said.
Another dreamer, business owner Jim Coate, is committed to sustainable living and dreams of starting a festival right in the city of Waynesboro.
After presenting their ideas, the contestants fielded questions from the panel of judges.
Organizers say the event was really a reaction to the community, and people with ideas who said they didn't have the money to make them happen. They also say that help isn't just financial.
"Get the feedback from the audience and from the judges on their idea to further develop it, then connect them with the resources that are available within the community to help them grow their idea," said Katie McElroy, Waynesboro's tourism director.
Part two of Jumpstart Waynesboro is happening November 12, from 6 p.m. to 8 p.m. at the Gateway Theater in Downtown Waynesboro. If you have an idea, there are still spaces available.
The event is open to the public.