VIA Hosts Workshop to Discuss Future Success
Posted:
Updated: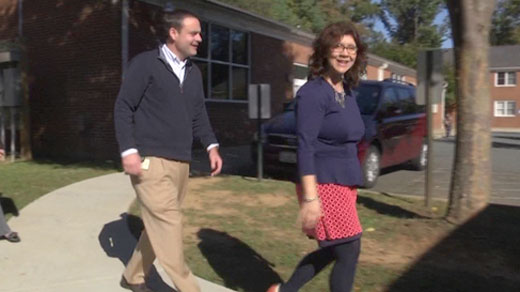 Linda LeBlanc visits VIA
Students and teachers at the Virginia Institute of Autism, or VIA, are benefiting from the visit of a nationally renowned expert. Linda LeBlanc is on the VIA advisory board, and came to talk to teachers about growth Monday.
VIA hosted a workshop Monday at Northside Library where LeBlanc discussed how the institute could expand its existing programs, and make room for new ones.

LeBlanc says one thing that makes VIA unique is its strong relationship with the city of Charlottesville. Just last August, community proceeds from Restaurant Week as well as individual donations paid for a new playground. LeBlanc calls this a two-way street, where they receive support from the community and in turn provide world-class instruction for the city's autistic students.
LeBlanc says, as the organization continues to grow, it will receive an influx of new students, and must be ready to accommodate them with the same quality of care they currently offer. She also wants to help give them ideas for the development of new programs.
"You have to figure out how to best build your capacity so that you maintain excellent quality of your services, but are able to do more for more people," said LeBlanc.
LeBlanc says the ultimate goal is to give every individual the opportunity to be a part of their community in the fullest way possible.
LeBlanc says VIA has become a nationally known organization from the work they're doing, and she expects them to continue to grow.