Volunteers Help Clean Up Rivanna Trail
Posted:
Updated: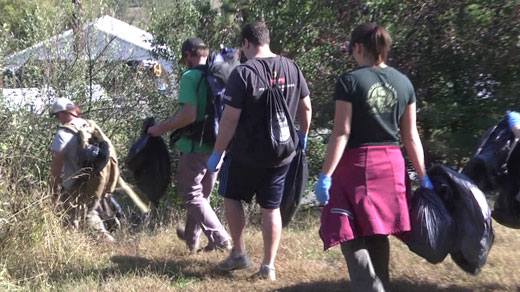 Volunteers clean up Rivanna Trail
The Rivanna Trail is in tip-top shape Friday night. A group spent the day picking up trash to ensure your next adventure will be a pretty one.
Employees from Blue Mountain Brewery, Blue Ridge Outdoors Magazine, and Blue Ridge Mountain Sports put together the cleanup. The original plan was to clean up Rip-Rap Trail at Shenandoah National Park - but because the government was still shut down a few days ago, things changed.

After hours of hiking the trails and picking up garbage, the group filled 15 bags of trash. They started Friday morning at Riverview Park and took the trail to Darden Towe Park. On the way to Darden Towe they filled all of the bags with trash and on the hike back, they picked them up from the side of the trail and hauled them away.
"A fair bit of trash, a lot of beer bottles ironically, and you know some things too heavy to pick up, but we just been getting up a lot of litter and having a good time," said Scott Wilcox, who helped clean the trail.
The cleanup wasn't all work - the crew says it was also a day of fun in the outdoors.
If you missed the cleanup but still want to help with the effort you have another chance. Friday night, Blue Mountain Brewery is giving 20 percent of its food proceeds to the Shenandoah Park Trust.