Albemarle BOS Candidates Discuss Goals at Forum
Posted:
Updated: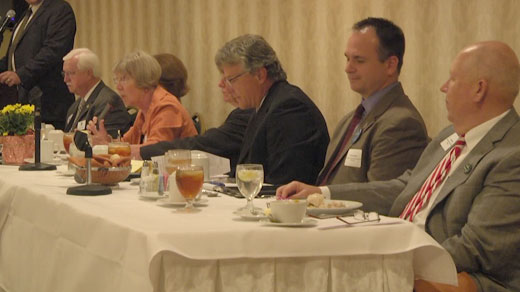 Albemarle County Board of Supervisor candidate's forum
The candidates for Albemarle County's Board of Supervisors got the chance to speak their minds Wednesday. They met at a public forum where they discussed topics ranging from transportation to business development.
The candidate's forum, held at the Holiday Inn on Emmett Street, was sponsored by the North Charlottesville Business Council. It was moderated by the Free Enterprise Forum.

The president of the North Charlottesville Business Council, Lloyd Wood, says with so many candidates up for election this time around, it's more important than ever to understand where they stand on the issues.
"We want the people to know and get exposed to the candidates that are running so that hopefully they will be able to be informed on November the fifth when Election Day comes around."
Neil Williamson, the president of the Free Enterprise Forum, narrated the event. He says he has never seen this many candidates up for election, making it more important than ever.
"There's a majority of the Albemarle County board being elected. That is unprecedented to my knowledge in my 10 years working in this particular region," Williamson said.
All of the issues discussed at the forum had an underlying theme: increasing economic development in the county. Better education programs, construction on Route 29, and retaining college grads in the community were all issues discussed.
With candidates both in favor of changes and not, the fate of many upcoming county projects hang in the balance of the election.
"Whatever the numbers are that come out of this election will determine the direction for Albemarle County for the next two years," said Williamson.
There was one place all of the candidates agreed: they want to see Charlottesville and Albemarle County become a tourism destination for people in Virginia, and the country.