Sabato Marks Release of 'The Kennedy Half Century'
Posted:
Updated: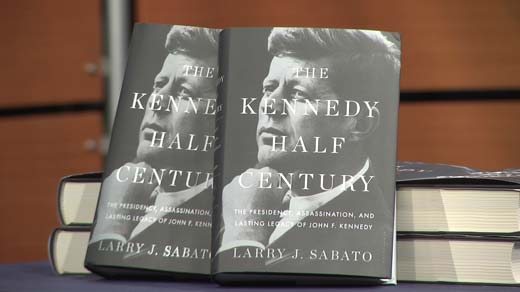 "The Kennedy Half Century" by Larry Sabato
Fifty years after the assassination of John F. Kennedy, University of Virginia political expert Larry Sabato is re-examining his life, death, and legacy. Sabato marked the release of his new book, "The Kennedy Half Century," in Washington Tuesday morning.
Countless books have been written about Kennedy in the five decades since his death. But Sabato says his 600-page volume, five years in the making, gives new insight into what happened November 22, 1963.

"A half century later many of the assassination fundamentals are too disputed for a resolution," he said.
Sabato commissioned a new analysis of Dallas police radio recordings, thought to contain four audible gunshots. Sabato says, in reality, no shots can be heard on the recording, completely invalidating a congressional report that said the assassination was part of a conspiracy.
"That commission conclusion is absolutely wrong," Sabato said.
Buell Frazier remembers that day vividly. He dropped his coworker off at work that morning in Dallas, a man named Lee Harvey Oswald.
"Technically all you can say is he's an accused assassin, because he never appeared in a court of law before a judge and a jury. I find it hard, even today, to believe that he would do something like that," Frazier said.
Unlike Frazier, former Dallas sheriff Jim Bowles believes Oswald did it, and did it alone. Sabato's book, he says, only helps show that.
"We know it for sure now, the only thing is it's hard to believe if you just can't believe," said Jim Bowles, a former Dallas sheriff.
You can explore Sabato's findings for yourself in a variety of ways. The book is out Tuesday, and a smartphone app with the new recordings will be released next week.
Sabato will also teach a free online course on Kennedy's legacy starting October 21.