Monticello Mustang Offensive Line Hopes To Push Past WAHS Friday
Posted:
Updated: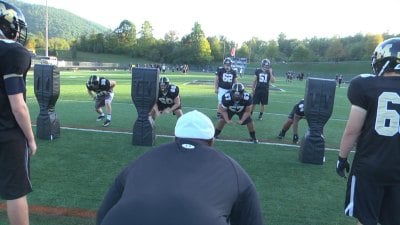 The 6-0 Monticello Football team is one of the biggest offensive powerhouses in Central Virginia.
Offensive Lineman, Cameron Grooms said, "People notice us and people know that we're here. Every time we step on the field, we're going to bring it."
Head Coach Jeff Woody added, "If we can't open up lanes for running backs to run through, then we don't have an offense that's productive."
Quarterback James St. Hill and running back Tyler Wagner are the first to point out the reason why they have 2,818 yards of total offense so far this season. St. Hill said, "It all starts with the O-line, without the O-line we can't do what we do." Wagner agreed, "They're the base to our offense, we can't do anything without them."
The Mustang O-line challenges themselves every play.

"We move the offense, we gotta get the ball ten, 15 yards every play," said offensive lineman, Adam Hill. Hill added, "If we don't, it's not good enough."
St. Hill said, "[They make my job] a lot easier. They've done a great job, I haven't been sacked a lot at all this year."
In fact, St. Hill has only been sacked twice. Thanks to his O-line, St. Hill has completed 41-of-78 passes for 952 yards and 15 touchdowns.

The guys say they would want nothing more than to move their offense down the field over and over again on Friday so they can take down arch rival Western Albemarle.
Grooms said, "Keep putting points on the board non-stop throughout the game. This would be a huge statement to us and a huge statement to Western and all the other teams."