WAHS and Monticello HS Football Gear Up for Friday Night Shootout
Posted:
Updated: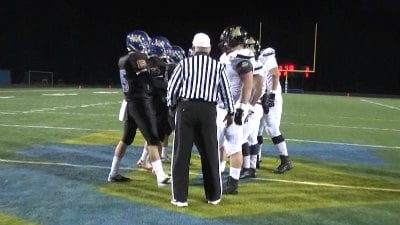 Over the past two years, Monticello has the 3-1 edge over Western Albemarle.
Both teams agree that there's a different vibe in the hallways. There's a lot of excitement at school this week because they say this is the game they've been waiting for all year.
Western Albemarle wide receiver Chase Stokes said, "The schools kind of have a history you know in every sport and they always give us good competition."
The Mustangs and the Warriors are both undefeated this year with 6-0 records.
In 2012, Western shut out Monticello 28-0 during the regular season, but the Mustangs ended the Warriors season in the playoffs when they beat em 41-29.
Western Albemarle's head coach, Ed Redmond said, "I'd probably be wrong if I said they weren't thinking about that. That's something we certainly don't talk about."
Friday night's game could come down to a shootout as both teams are red hot on offense. The Mustangs have not trailed in a game all season and outscored their opponents 254-48 through three quarters.
Meanwhile, Western's star quarterback Kent Henry has faced Monticello four times with impressive results. Henry passed for 955 yards, 8 touchdowns and has rushed 68 times for 260 yards and four more scores.
"He's the best quarterback in the state of Virginia," said Monticello head coach, Jeff Woody. He added, "On his ability to make all types of throws. But you add the fact that he can also run a little bit."
Mustangs running back, Tyler Wagner said, "Western has an amazing passing offense, but we know our defensive ends and linebackers can definitely get in there and make some picks."
While a win will give one of these teams a leg up in the Jefferson District, both teams are trying to not get too ahead of themselves.
Woody said, "Presents itself as one of the biggest games in the state of Virginia and with that being said, these guys out here in practice, their focus is where it needs to be."
Western's quarterback Kent Henry said, "We're trying not to put too much pressure on the game. Its another game. If we lose we can still get a district title, you never know so football is a crazy sport."