Contest to Name Cville's Favorite "Green" Restaurant
Posted:
Updated: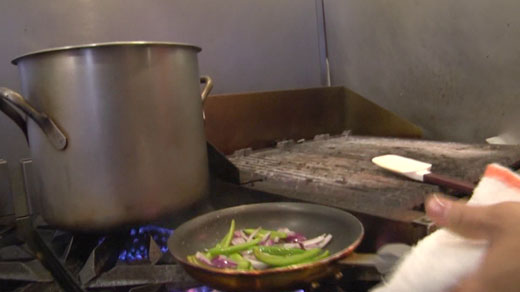 Chefs in our area are going head-to-head to see who's the most "green." They're competing for a chance to call themselves Charlottesville's favorite sustainable restaurant.
The Nature Conservancy is hosting a competition called Nature's Plate. Charlottesville chefs are cooking up their best green, organic, and farm-to-table foods, and diners will decide their favorites. The finalists are Brookville Restaurant, Rapture, The Local, Fossett's Restaurant, and Beer Run.
At Beer Run, the actual building is green - made with recycled materials. The bar is made from repurposed wood and tables are made with copper from a scrap yard. Like many restaurants in the competition, they use organic ingredients and source food and drinks from around the region. They also buy from natural food suppliers and buy ingredients without pesticides whenever possible.
John Woodriff, the co-owner of Beer Run, said being organic is part of their mission.
"It's important for the environment and it's also important to the customer. The customers have access to better quality food and better quality ingredients," Woodriff said.
Other restaurants boast seasonal ingredients and food grown in central Virginia.
Fossett's at Keswick Hall at Monticello has several green practices that include ingredients sourced within 30 miles whenever possible. Some of the restaurant's herbs and seasonal produce are grown in Keswick's chef's garden, and seafood is sourced from sustainable producers. They also serve tap water at the table and buy meats and poultry from Virginia farms providing grass-fed proteins.
Brookville Restaurant said in an online statement that 95 percent of its ingredients are sourced from farms within 100 miles.
Rapture's cuisine features local ingredients and local flavor, and the restaurant uses Chef Chris Humphrey's Virginia upbringing as an asset to source local foods.
For The Local, it's all in the name. The restaurant's online statement says it aims "to provide a venue to showcase the abundant supply of small farmers, artisan cheese makers, breweries, distilleries and award winning vineyards located in Charlottesville and the surrounding area."
Overall, the Nature's Plate contest aims to highlight sustainable food and agriculture and a healthy restaurant atmosphere in the area.
Tuesday is the last day to vote. To vote, click here.