Missed Opportunities Cost UVa Against Terps
Posted:
Updated: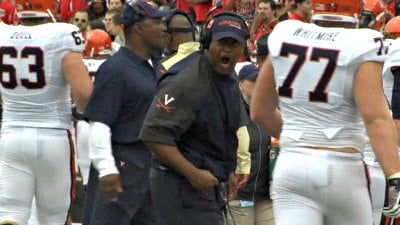 Virginia is now 2-4, 0-2 in the ACC
The Virginia Football team might have been 128 miles away from Charlottesville on Saturday, but they used the Terps routinely rowdy crowd to their advantage.
Head coach Mike London says, "A lot of things went on that we improved upon, and that's the aim that's the goal."
The 'Hoos made it to the red zone six times and each time they came away with points.
Four of those drives ended with Alec Vozenilek putting the ball through the uprights.
Senior center Luke Bowanko says, "Just a lot of chippy football in there. We were making holes and the execution was better. We need to make points though, that's the bottom line of business."
With five minutes left in the fourth quarter, Maryland made a lob pass and go ahead touchdown, Virginia's fate depended on Vozenilek to hit a 42-yard field goal with 10 seconds remaining, but it sailed right.
Vozenilek says, "Great opportunity. The team believed in me, I believed in myself, just pushed it right."
London adds, "Alex shouldering the blame or anything but that's the first miss he's missed since he's been kicking."
While the loss will sting, for a while, the Cavs left College Park with a great deal of progress.
Senior defensive lineman Jake Snyder says, "Everything's in place, everything's there. The guys want it. Its not a question of effort. Just little mistakes here and there end up adding up and losing you games."