'SparkFun' Teaches Cville Educators to Use Technology in Classroom
Posted:
Updated: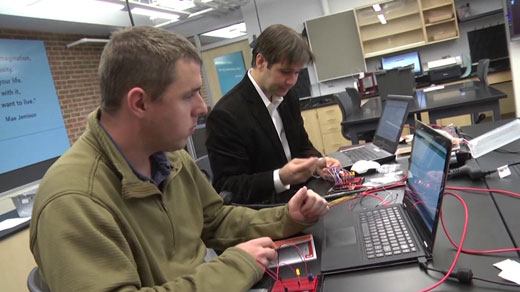 Teachers at Buford Middle School learn advanced computer skills
Teachers at Charlottesville's Buford Middle School are learning advanced computer skills to pass on to their students.
It's a revolutionary program that started with a college student and an idea. The idea for SparkFun began in a dorm room at the University of Colorado Boulder back in 2003. Now it has grown into a company, and SparkFun instructors are on a tour of every state in the continental U.S., showing teachers how to use technology in the classroom.
3-D printers, computer programming, and mechanical engineering all sound like topics reserved for an advanced college course, but the instructors at SparkFun say these skills need to be learned much earlier.
"The chips that we're playing with now are eight times more powerful than the computer that sent man to the moon. Just this little square on these boards is eight times more powerful," said instructor William Talbott. "So if we can get kids interested, then someone might be able to beef that up even more, so we can have more memory in smaller spaces, which means better-quality products."
By showing teachers how to use these technologies, the SparkFun instructors hope to see the fundamentals of engineering become a standard part of the classroom.
Teachers are enthusiastic, but don't know how these new methods will manifest in classrooms.
"It really is trial and error. I'd love to say there's a book, but we're writing the book, we are the pioneers," said Libbey Kitten, science director for Charlottesville City Schools.
SparkFun expects the program to catch on, as students seem to pick it up even quicker than the adults.
"We learn through doing it, which is more interesting and for me it's easier to learn than listening to a lecture," said eighth-grade student Emma Hale.
Buford is one of only two schools in Virginia getting this training. Students can expect to see more engineering-type classes being worked into the curriculum within the next two years.
Reported by Rob Manch