Registrars React to Voter Roll Lawsuit
Posted:
Updated: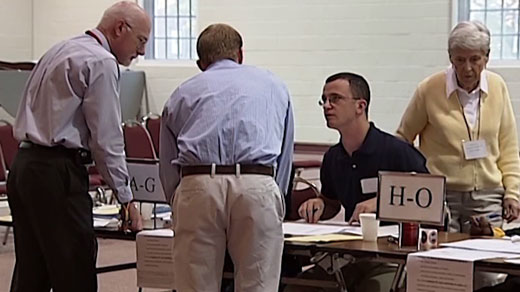 Thousands of names will be taken off voter rolls in Virginia ahead of Election Day, thanks to new rules passed by the General Assembly. Virginia Democrats say the move will disenfranchise tens of thousands of voters, but voter registrars say that is simply untrue.
The Democratic Party of Virginia filed a lawsuit October 2 in federal district court alleging the voter purge would keep voters from casting a ballot on Election Day.
"People just need to step back, they need to calm down," Charlottesville registrar Sheri Iachetta said. "Nobody is going to be disenfranchised because of the horrible voter purge that everyone is talking about."
A state statute that went into effect July 1 required the State Board of Elections (BOE) to cross-reference Virginia's voter data with 21 other states, in hopes of finding duplicate registrations. In August, they tracked down 57,000 voters thought to be living across state lines. They passed that information onto voter registrars across the commonwealth to confirm whether registrations should be cancelled or maintained.
Democrats contend that removing potentially thousands of voters from the rolls would keep some from voting. They also say Attorney General Ken Cuccinelli's role as the BOE's legal counsel and advisor represents a "conflict of interest in the matter raises serious questions about whether the planned purge would be carried out impartially."
Democrats call into question a letter to registrars from the BOE asking them to "use your best judgment" when carrying out the purge. Registrars say it doesn't come down to judgment, but a set of due diligence procedures.
"We're not just going to take those people off; we go through a process," Iachetta said.
Registrars across the NBC29 viewing area confirmed Thursday they cross-reference names, birth dates, Social Security numbers, and other information provided by the BOE with information in other states. They then compare registration and voting dates to determine where a voter was active most recently. Then, registrars mail notices to the most recent addresses in both states that a person's registration is being cancelled. Voters who believe they are still eligible can appeal to registrars. And if someone is removed from the rolls by mistake…
"Guess what? They're not going to be turned away," Iachetta said. "There is a process for them to vote, whether it be a regular ballot or whether it be a provisional ballot. They are not going to be turned away."
Iachetta says recent media coverage and uproar over the purge could potentially mislead voters, and says last week's lawsuit is politicizing a routine procedure.
"It's omission of information, and people are using it to politicize their particular stance," Iachetta said. "They need to let us do our job."
Albemarle registrar Jake Washburne agrees, and says the concern is overwrought.
"I think that that is blowing it out of proportion," he said. "It's essentially to my way of thinking the same type of notice, but in another form."
Registrars conduct list maintenance on a regular basis, and are required by law (Virginia Code Section 24.2-114) to maintain accurate and current voter registration information.