ACAC Drive Raises $30K for Hospice of the Piedmont
Posted:
Updated: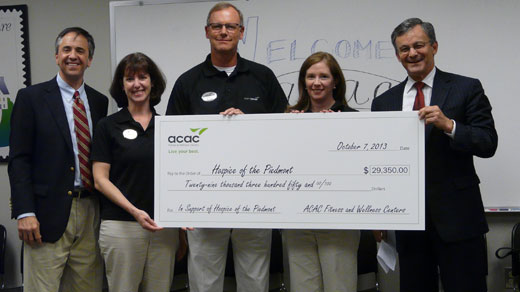 ACAC check present to Hospice of the Piedmont
Hospice of the Piedmont Press Release
Charlottesville, VA – October 9, 2013 – Hospice of the Piedmont is proud to announce that a month-long membership drive held by ACAC raised almost $30,000. This donation has been designated to support Hospice of the Piedmont's new pediatric end-of-life care program, Piedmont Kids, which will launch in early 2014.
"I want to thank ACAC for continuing to live out their mission for the health and well-being of our community. ACAC's gift will be used to help Hospice of the Piedmont launch Piedmont Kids, an end-of-life supportive care program for seriously ill children and their family," said Hospice of the Piedmont CEO James Avery, M.D.
On Tuesday, October 8, ACAC executives, including Vice President of Operations John Greene and Vice President of Marketing Christine Thalwitz, visited the Hospice of the Piedmont office and presented a check for $29,350 to benefit the Piedmont Kids program. Hospice of the Piedmont executives were also present, including Mr. Avery, Director of Advancement John Healy, and Glenn Rust, the President and CEO of Virginia National Bank and Chairman of the Hospice of the Piedmont Board of Directors.
"We consider it an honor that ACAC selected Hospice of the Piedmont as the beneficiary for this drive," Mr. Rust said at the event.
"The Piedmont Kids program complements our vision to achieve a day when no one in central Virginia dies alone or in pain," Jim said. "On behalf of all of the children that will be served by this program, I sincerely thank you!"
ACAC's month-long membership drive, called "$25 for 25 days" invited community members to sign up for a 25-day trial membership during the month of September. The 25-day membership cost just $25 and was available at any of the three Charlottesville/Albemarle ACAC locations – Downtown, Albemarle Square, or Crozet. More than 1,160 community members took advantage of the membership drive, raising funds that will go directly to supporting Hospice of the Piedmont's community-based work.
"It's clear that a lot of people in the community have been touched by the services of Hospice of the Piedmont," ACAC Membership Director Kelly Kyriacopoulos said at the event.
"We are so proud to partner with such a wonderful organization," added Emily Stacy, ACAC Marketing Director.
Surveys show that 70% of families would choose for their child to die at home if they had adequate support, but most children die in hospitals. That's why Hospice of the Piedmont is collaborating with the UVA Pediatric Palliative Care team (inpatient) to launch Piedmont Kids. This program is built around expert, pediatric, home end-of-life care services that will enable seriously ill children to stay comfortably at home with their families.
Piedmont Kids is designed to address the total pain experienced in terminal illness – physical, emotional, spiritual, and social pain – for families and children dealing with death. This new program will also seek to address the trauma of childhood illness or death and help alleviate the debilitating effects of pediatric illness, loss, and bereavement on families throughout central Virginia.