Louisa County and Monticello Field Hockey Play 4 The Cure
Posted:
Updated: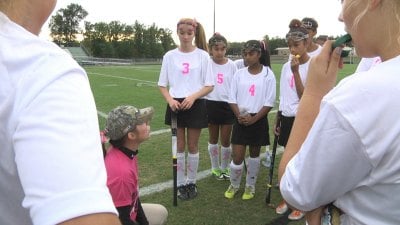 Central Virginia sports fans are used to seeing Louisa County high school wear green and black, while Monticello will typically rock black and gold, but on Tuesday, October 8, 2013, both teams put rivalries aside and sported pink to raise money for cancer research.
"I think it's wonderful. When we saw them we were kind of jealous," laughed Louisa County field hockey's Paula Morrison. She added, "We like the black on pink."
Monticello field hockey captain, Mattie Morris said, "Showing unity for the cause."
One dollar was donated to cancer research for every fan that attended the "Play 4 the Cure" game wearing pink at the Lions stadium.
Louisa County field hockey goalie, Kelsey Stanley, said, "Its not only for the 'W' in the score book but its for the pink out, it's for cancer and to raise money for it."
Kelsey Stanley and her mom, Stephanie Stanley, who organized the event have been hit by this disease. Kelsey's aunt, Bonnie Alexander, had breast cancer and past away this summer.
Stanley said, "It's a big thing that we can honor her and anybody else on the team who is effected too."
As they took to the field decked out with pink ribbons in their hair and pinked out shin guards they all had a goal in mind - to raise $1,000 for cancer research. All hoping that those who are fighting this awful disease or have fought it, will one day not have to.
Stanley said, "If people raise enough money then we can find a cure for cancer. She could've still been here today and been here for the pink out game but she's not and all we can do now is raise enough money to find a cure for cancer."