Gubernatorial Candidates Face Off in Debate
Posted:
Updated: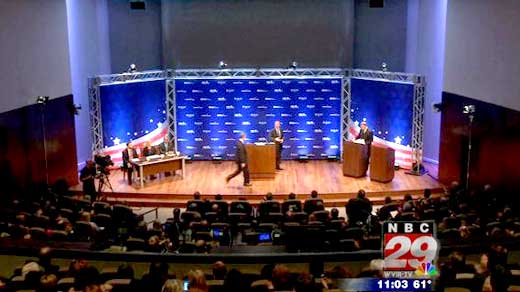 Candidates taking the stage for the debate.
Republican Ken Cuccinelli and Democrat Terry McAuliffe went toe-to-toe on a wide range of issues Wednesday in the final debate of what is turning out to be most watched governor's race in the country.
With just under six weeks to go Election Day there is no love lost between the Virginia gubernatorial candidates. The state is saturated with attack ads from both sides in what is turning into the most expensive campaign in the history of the Commonwealth. Wednesday night the candidates continued their high profile back-and-forth, trading jabs in Fairfax County.
Cuccinelli hammered McAuliffe's lack of experience. "Governor is not a good entry level job, but that's what it would be for Terry," he said.
While McAuliffe painted the attorney general as dangerously conservative and out of on social issues. "The choice in this race is simple, which candidate is going to govern from the mainstream," he said.
One issue the two vehemently disagree on is Medicaid expansion. Cuccinelli wants to make adjustments within the system while McAuliffe wants to expand the program.
Ken Cuccinelli said, "Earlier, Terry had said 'Well, we can't move money around in Medicaid,' well yes, actually we can. And we can address mental health more if we move money from one waiver program to another within Medicaid if that's our priority. And for me, it is a priority. I think we need to make the Medicaid system we have now work better for the people who are in it."
McAuliffe said, "We should just walk through the numbers very quickly. Beginning next year, 400,000 Virginians will get access to quality, life-saving care. Number 2: This is our money. It is now the law of the land; 29 other states have agreed to accept it."
Whether Wednesday's debate makes waves in the polls remains to be seen; according to Real Clear Politics, the most recent polls put McAuliffe ahead of Cuccinelli by about four percentage points.
Missing from the stage Wednesday was libertarian candidate Robert Sarvis.
He wasn't invited to participate in the debate but did make an appearance, airing his first television ad during the broadcast.
In it, he says he wants a Virginia that is "open minded and open for business."