UVA Child Development Lab Looking for More Volunteers
Posted:
Updated: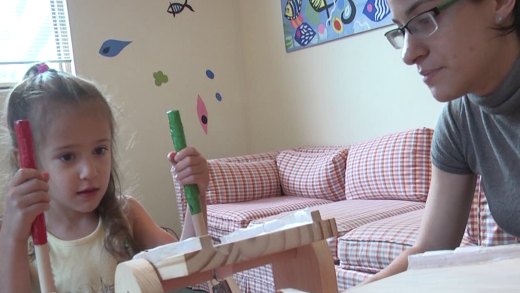 A department of researchers at the University of Virginia is looking for more kids for their studies. While the researchers gain valuable findings, the kids feel like they are just having fun while playing games.
Several hundred families have participated in studies with UVA's Child Development Laboratories. The research focus on how children learn about the world and the people in it.
"How do children remember, how do they think about other people, what kinds of decisions do they make when they have to decide how to distribute resources?" said researcher Vikram Jaswal.
Researchers are now hoping to continue their work by bringing in new volunteers at an event called Family Fun Day, taking place this weekend. It's meant to thank families who have participated in studies at the lab, recruit people for future studies, and share results of some of the research.
The research is presented as games to the children. In one study currently being conducted, the children decide if it's fair for them to get one penny while another participant gets four, and if it's fair if they get the four pennies and the other participant gets only one.
"You'll see participants offered a decision about whether a particular distribution of resources is fair. Where she gets one of something and the partner gets four of something, and that's not fair from a child's perspective, and even very young kids realize that's not fair," Jaswal said. "What we're interested in is what would happen if the participant gets four of something and the partner only gets one- would the child thing that's fair or not?"
All of the studies involve kids under the age of 12. There are up to a dozen studies going on at any time.
Families who participate won't get any financial incentive, although the girl observed in the penny survey did get to walk away with a few pennies in a Ziploc bag. Overall, the families are volunteering. "So we rely on the good will of community members to do these studies," Jaswal said.
That doesn't mean there isn't a benefit for participants. The kids seem to enjoy playing the "games," with researchers. The parents can benefit as well.
"I think families enjoy coming because they get to see how research is done and learn a little bit about child development and get to see their children growing and developing, especially if they come back for multiple studies," said Jaswal.
In another study, findings showed that watching active cartoons can deplete children's ability to concentrate. Researchers say this has implications for what children should be doing before heading off to school or trying to get work done.
People who attend Family Fun Day will get to learn about the child development labs and tour the research space. There will also be games and activities. The event takes place Saturday from 9 a.m. to 2 p.m. at the laboratories behind Harris Teeter located at 1023 Millmont Street.