UVa Field Hockey Only Looking Up After 8-1 Start
Posted:
Updated: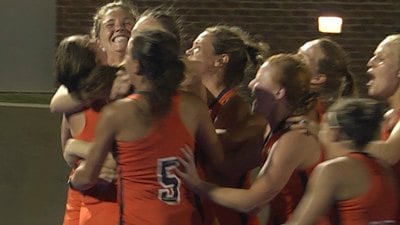 The #4 UVa field hockey team's only loss this season was handed to them by top ranked UNC.
Senior Forward Hadley Bell said, "We just learned that we have to take every situation seriously we have to play every single minute and win every situation we're in and yea we just have to keep it in and keep hustling." Head coach Michele Madison added, "We talked after the game about what it takes to be number one and the things they learned from that game is being more dynamic and going to the ball and composure."
The team quickly bounced back to take down 12th ranked Northwestern 2-1 Saturday. The Cavaliers put a ball in the cage with 5 minutes left in the game Saturday to beat 12th ranked Northwestern 2-1.
"To come out and get excited again is where they had to dig," said Madison. "That's where they impressed me."
While their roster touts a good deal of experienced players, the 'Hoos have 5 freshman seeing playing time and making an immediate impact.
Bell said, "they're enthusiastic, really fun, really hardworking, so its just been really great to have a group of girls that pushes us each day. We push them too and its just awesome to have that team mentality."
While their goal this season is to win a national title, the team is taking it one game at a time as they gear up to face James Madison at 6 p.m. Wednesday at University Hall Turf.
"Focus on what we can do," said Bell. "That's really all we can know."