Charlottesville Area Association of Realtors Holds Business Summit
Posted:
Updated: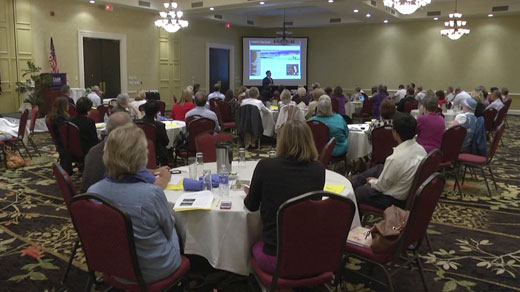 CAAR business summit
Central Virginia realtors gained some valuable insight Thursday at the Charlottesville Area Association of Realtors (CAAR) Realtor Business Summit at the DoubleTree hotel in Albemarle. They focused on new marketing techniques and positive trends in Charlottesville's housing market.
Selling houses has changed a lot over the last few years and real estate agents are working to keep up with the times. Agents are learning new marketing techniques to encourage involvement in their communities and to understand what would draw homebuyers to the area.
The CAAR summit featured economist Christine Chmura, among other prominent speakers. Speakers discussed some good news for local realtors. The Charlottesville market enjoys a stable economy, ranking far below its neighboring counties and the state overall in foreclosure rates.
The main focus of the summit, however, was learning how to serve the community better.
"This is helping sensitize us to what information do we need to be communicating on our website? And on our apps, so that we can better inform buyers and sellers about the information that's important to them," said Denise Ramey, chairwoman of CAAR.
It's all in an effort to turn web surfing into sales.
"They're talking really in-depth about how things have moved online and what are people searching for and how do they finally drill down to find you as an agent that might be able to represent them in the Charlottesville market," said realtor Michael Plecker.
The hope is for homebuyers in the area to see the need to rely on the expertise of an agent to buy their next home.
CAAR holds monthly meetings and will continue to support the education of realtors in the area.
Reported by Rob Manch