JMU Field Hockey Beats VCU 4-0
Posted:
Updated: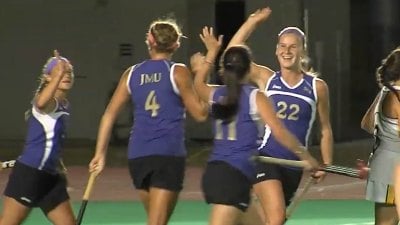 HARRISONBURG, Va., Sept. 18, 2013 – Redshirt sophomore Taylor West (Princess Anne, Md./Pocomoke) notched her second hat trick of the season to lead James Madison field hockey to a 4-0 shutout against VCU at the JMU Field Hockey Complex on Wednesday night.

The Dukes improved to 4-3 on the year, and the Rams fell to 2-4 overall.

West tapped in her first goal just four minutes into the game off a deflection from sophomore Adrienne le Vatte (Port Elizabeth, South Africa/Alexander Road), giving JMU a 1-0 lead and ending a four-game scoring drought. It was the lone goal of the first half

In the 45th minute of the game, JMU earned a corner to set up West's second scoring opportunity. Senior Amy Goldstein (Lititz, Pa./Warwick) inserted the corner to junior Dana Allaband (Elkton, Md./Rising Sun) on the stick, setting up West to take the shot straight past VCU's goalkeeper, Megan Botteri.

Seven minutes later, a pass into the circle from sophomore Loes Stijntjes (Steenokkerzeel, Belgium/Heilig Hartcollege) pulled the goalie out of the net, allowing West to fire the ball in to complete the hat trick.

The JMU defense held VCU to just two shots on the night and did not allow the Rams to take a shot until the 66th minute of the game. VCU also earned just one corner on the night compared to JMU's eight.

Sophomore Lena Wimmert (Bergisch Gladbach, Germany/Lise-Meitner Gymnasium) earned her first shutout of 2013 in her third win of the season. Botteri was credited with the loss, falling to 1-3 this year.

le Vatte tallied her first assist of the season on West's first goal of the night. She also scored her first goal of 2013 in the 40th minute of the match as she tipped in a shot by Stijntjes off a corner.

Of JMU's 22 goals this season, 8 have been scored by West. The remaining 14 are attributed to 11 other Dukes.

JMU is back in action on Saturday, September 21, when the Dukes take on Appalachian State at 1 p.m. at the JMU Field Hockey Complex.