Legal Aid Justice Center Has New Advocacy Director
Posted:
Updated: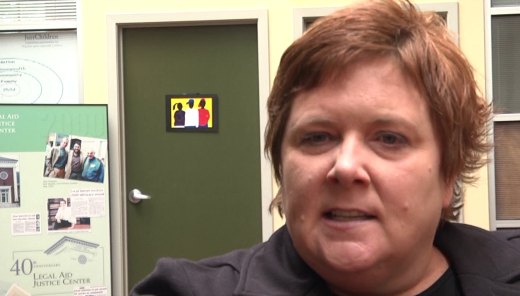 Mary Bauer
The Legal Aid Justice Center in Charlottesville has a new advocacy director.
Mary Bauer has taken the helm after overseeing the Southern Poverty Law Center in Montgomery, Alabama. She says the center will always be a place where low income individuals can walk through the doors for help. But Bauer brings state wide goals as well.
"We have a sophisticated staff that's really looking proactively at what are the barriers that poor people face in our community and across the state and what can we do as lawyers to get rid of those barriers," she said.
The center focuses on offering legal help to vulnerable individuals. Groups of children, immigrants, the elderly, and people in institutions also benefit.
---
Immigration Reform Leader Mary Bauer Arrives at Legal Aid Justice Center Press Release
The Legal Aid Justice Center is pleased to announce that Mary Bauer returned to its Charlottesville office.
Bauer—a recognized leader and key litigator in immigrants' rights issues nationally—most recently served as legal director of the Southern Poverty Law Center (SPLC) in Montgomery, Ala. There she guided legal advocacy, as well as public policy and legislative reform efforts, in five offices in the Deep South.
Under her tenure, SPLC's legal work focused on juvenile justice issues, education law, immigrants' rights, racial justice, and the rights of LGBT persons. Prior to serving as Legal Director, she was the first director of SPLC's Immigrant Justice Project, where she led SPLC lawsuits aimed at enforcing the rights of immigrants and testified before Congress on issues involving the exploitation of migrant workers.
As Director of Advocacy at the Legal Aid Justice Center, Bauer mentors new and mid-level attorneys in litigation strategy, organizes state-level advocacy efforts to protect the interests and well-being of low-income Virginians, and coordinates the programmatic work of the Legal Aid Justice Center to ensure service of the greatest need and adherence to the organization's mission.
This fall, Bauer will help the Legal Aid Justice Center spotlight immigration reform by spearheading a three-night, three-city film event and discussion, "No Dream Deferred," featuring the documentary The Dream is Now. The events will take place on successive evenings in Fairfax (Oct. 22), Richmond (Oct. 23), and Charlottesville (Oct. 24). Bauer said, "This is a great opportunity for us to focus attention on our immigrant advocacy work and to connect it to the national conversation. Virginia is a key player in comprehensive immigration reform, and our work in communities throughout the state and even beyond Virginia's borders is making a big difference."
Prior to joining SPLC and her return to the Legal Aid Justice Center, Bauer served as legal director of the Immigrant Advocacy Program at the Legal Aid Justice Center. She was also the legal director of the Virginia American Civil Liberties Union. She earned her Bachelor of Arts degree from the College of William and Mary and graduated from the University of Virginia School of Law in 1990. She is also a former Skadden Fellow.
Executive Director Alex Gulotta said, "Mary brings a wealth of experience to the position, and her tenacity and expertise as a litigator are unmatched. Her presence greatly increases the potential impact of our work across all of our programs."