Horseback Tours Offered at Albemarle Wineries
Posted:
Updated: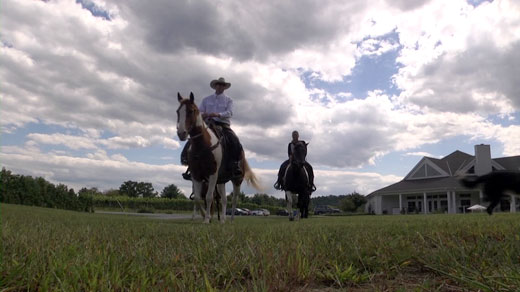 You can saddle up for a unique take on wine tasting in Albemarle County, thanks to a group partnering with wineries to offer a new view of the vines - from atop a horse.
Indian Summer Guide Services
offers horseback vineyard tours, but encourages wine tasters to ride before sipping. Horseback guide Ashton Beebe, who has been riding for years, is now giving others a chance to trot through the vines.
"They can take a ride and see more of the vineyard, more of the sights," Beebe said. "They get great views from the tasting room but when you get out into the vineyard you can see a whole lot more."
Nick Dovel, the tasting room manager at Pollak Vineyards, says it's a new way for people to experience the winery.
"We're really excited to be able to offer this. We've been looking for an avenue to take people around and show off the beautiful vineyard for a really long time," Dovel said.
On the 45-minute tour through acres of vines, Beebe and his trusty dog Mo, who comes along on every ride, take customers on an up-close and personal look at the grapes - one you can't see from the tasting room.
"I would consider this an all-inclusive experience. You're going to actually see every element of what we do here from the back house to the actual vineyard, which has not been available before," Dovel said.
After the tour, riders can step inside and enjoy a glass of wine. While the horses add a unique twist, Beebe says that's not all that truly makes the experience special.
"The views. The views and Virginia wine," he said. "The wine is great here."
Pollak, King and Glass House wineries are all offering the horseback tours.