UVa's Jarmere Jenkins Named ACC Male Athlete of the Year
Posted:
Updated: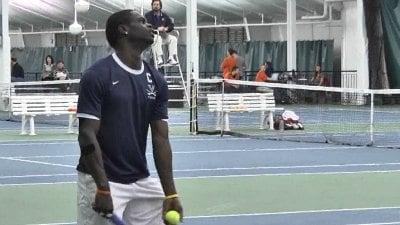 GREENSBORO, N.C. – Virginia senior tennis player Jarmere Jenkins (College Park, Ga.) was named as the 2013 recipient of the Anthony J. McKevlin Award, given annually to the top male athlete in the Atlantic Coast Conference. Jenkins is the fifth Virginia athlete to receive the honor and the first since 2003.

The Atlantic Coast Sports Media Association (ACSMA) votes on the McKevlin Award, as well as the Mary Garber Award for the top female athlete in the ACC, given this year to North Carolina women's soccer player Crystal Dunn.

Jenkins is the fifth Cavalier to receive the McKevlin Award. He joins football star Frank Quayle (1969), basketball legends Barry Parkhill (1972) and Ralph Sampson (1983) and lacrosse standout Chris Rotelli (2003).

With the award, Jenkins joins a group of honorees that includes four Naismith Basketball Hall of Famers, seven No. 1 overall NBA draft picks, four College Football Hall of Famers, two No. 1 overall MLB draft picks and one Heisman Trophy winner.
"Receiving the McKevlin Award is a little overwhelming at first when you look at the list of previous winners," said Jenkins. "To join a group that includes so many great names, especially the ones that went on to become stars in the NFL and NBA, is a tremendous honor. I am going to share this prestigious award with my family, teammates and coaches who have helped me have an unbelievable four years at the University of Virginia."


Jenkins, who was the 2013 ITA National Player of the Year, ended the season ranked No. 1 in the ITA singles rankings and was the 2013 NCAA singles runner-up. He posted a 42-6 singles record during his senior season, including winning the 2012 ITA Indoor Intercollegiate Championship title in the fall.

He was named NCAA Tournament MVP as the Cavaliers won their first team championship in May. The 2013 ITA/Farnsworth National Senior Player of the Year, Jenkins ended his collegiate career by winning the 2013 NCAA Doubles Championship with Mac Styslinger (Birmingham, Ala.).

Jenkins is the first athlete in the 60-year history of the award to be honored solely for his accomplishments on the tennis courts. The only previous tennis player to receive the award was Maryland's John Lucas in 1976, who was an All-American in both basketball and tennis that year.

"It is a remarkable accomplishment for Jarmere," said head coach Brian Boland. "I am happy for him and he is extremely deserving of the award. It is a reflection of not only the hard work he put into his career at the University of Virginia, but it is truly a testament to the hard work of everyone in this program. I believe it is also a tremendous honor for the sport of tennis. The ACC is unbelievably strong in numerous sports, so for a tennis player to win this award is something our sport as a whole can take pride in."

ANTHONY. J. McKEVLIN AWARD WINNERS

1954 Joel Shankle Duke Track & Field
1955 Dickie Hemric Wake Forest Basketball
1956 Dave Sime Duke Track & Field/Basketball
1957 Lennie Rosenbluth North Carolina Basketball
1958 Dick Christy NC State Football
1959 Lou Pucillo NC State Basketball
1960 Mike McGee Duke Football
1961 Roman Gabriel NC State Football
1962 Len Chappell Wake Forest Basketball
1963 Art Heyman Duke Basketball
1964 Jeff Mullins Duke Basketball
1965 Brian Piccolo Wake Forest Football
1966 Danny Talbott North Carolina Football/Baseball
1967 Bobby Bryant South Carolina Football/Baseball
1968 Larry Miller North Carolina Basketball
1969 Frank Quayle Virginia Football
1970 Charlie Scott North Carolina Basketball
1971 Don McCauley North Carolina Football
1972 Barry Parkhill Virginia Basketball
1973 David Thompson NC State Basketball
1974 Tony Waldrop North Carolina Track & Field
1975 David Thompson NC State Basketball
1976 John Lucas Maryland Basketball/Tennis
1977 Phil Ford North Carolina Basketball
1978 Phil Ford North Carolina Basketball
1979 Renaldo Nehemiah Maryland Track & Field
1980 Julie Shea NC State Track & Field
1981 Julie Shea NC State Track & Field
1982 James Worthy North Carolina Basketball
1983 Ralph Sampson Virginia Basketball
1984 Michael Jordan North Carolina Basketball
1985 B.J. Surhoff North Carolina Baseball
1986 Len Bias Maryland Basketball
1987 Riccardo Ingram Georgia Tech Football/Baseball
1988 Danny Ferry Duke Basketball
1989 Danny Ferry Duke Basketball
1990 Clarkston Hines Duke Football
1991 Christian Laettner Duke Basketball
1992 Christian Laettner Duke Basketball
1993 Charlie Ward Florida State Football/Basketball
1994 Charlie Ward Florida State Football/Basketball
1995 Randolph Childress Wake Forest Basketball
1996 Kris Benson Clemson Baseball
1997 Tim Duncan Wake Forest Basketball
1998 Antawn Jamison North Carolina Basketball
1999 Elton Brand Duke Basketball
2000 Joe Hamilton Georgia Tech Football
2001 Shane Battier Duke Basketball
2002 Juan Dixon Maryland Basketball
2003 Chris Rotelli Virginia Lacrosse
2004 Philip Rivers NC State Football
2005 Sean May North Carolina Basketball
2006 J.J. Redick Duke Basketball
2007 Walter Dix Florida State Track & Field
2008 Tyler Hansbrough North Carolina Basketball
2009 Matt Hill NC State Golf
2010 Ned Crotty Duke Lacrosse
2011 Ngoni Makusha Florida State Track & Field
2012 Luke Kuechly Boston College Football
2013 Jarmere Jenkins Virginia Tennis