C'ville Foodscapes Promotes Winter Gardens
Posted:
Updated: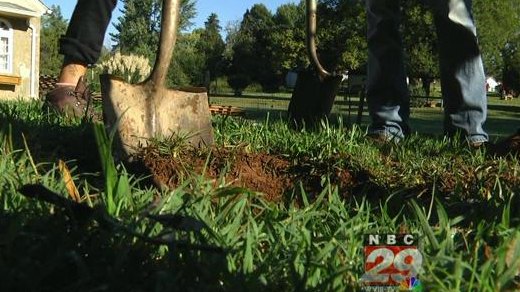 Don't put away your gardening tools just yet. A group of Charlottesville growers is starting the fall by planting new produce, and they're helping people in the area to keep their gardens going well into the winter.
C'ville Foodscapes is a worker-owned cooperative that will turn any lawn or backyard into a garden, and they're not stopping gardening just because the temperature is dropping. The group is working to provide winter gardens to people in Charlottesville with tools like cold frames. Those help trap heat like a greenhouse so you can garden longer throughout the year.
The company started in 2009. The founders have since moved on to new projects, and in July three new people became the co-owners/workers of the cooperative: Sarah Frazer, Tenzin "Cake" Namdol, and Ben Kessler.
The three use a technique called permaculture, which designs landscapes based on already established patterns of the earth, and utilizes each plant for multiple purposes, like shade, food, and beauty. They try to place each plant in an area that will maximize its benefit.
"We're trying to diversify the landscape, and kind of mimic Mother Nature in how she does her business and gives us an abundance of edible things that we can have," Namdol said.
The C'ville Foodscapes' owners say they want to one day see a garden in every lawn in Charlottesville. "We have this vision of turning lawns into food-producing gardens in Charlottesville to kind of get this urban farmstead thing going," Namdol said.
Namdol also says it's never too late to get started. "There's a lot to do at any point in the season, right? You can't just say, 'alright, the summer's over, now we're not gardening anymore. We're just inside watching The Voice or something.' There's plenty of stuff you can be doing, though so we're focusing on that."
On Tuesday C'ville Foodscapes did some gardening for the non-profit Casa Alma, which provides free housing to 3 families in need in Charlottesville. Casa Alma is working towards becoming a sustainable living center, and C'ville Foodscapes is helping them with that goal.
They planted a pawpaw tree, which will provide fruit to the people who live there. "We can make a lot of food to feed these families," Namdol said.
During the fall, C'ville Foodscapes will be planting trees and shrubs, preparing the soil for the spring season, and planting fall gardens with produce that can survive the cold like kale, collards, spinach, and garlic.
Click here for more information about C'ville Foodscapes.