Charlottesville Considers Stormwater Runoff Fee
Posted:
Updated: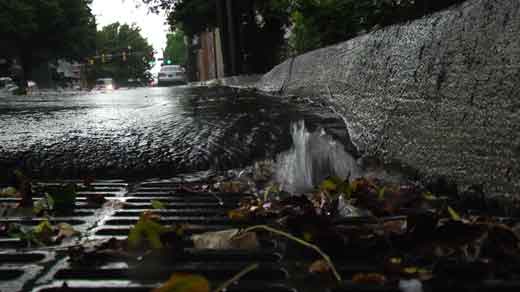 A new fee from the city of Charlottesville could make its way to your mailbox soon. The city is considering a fee to help handle stormwater runoff and upgrade infrastructure. But it could also have you paying hundreds of dollars more every year.
A pending proposal, called the Water Resources Protection Program, would charge all property owners in Charlottesville a fee based on the amount of runoff surfaces on their property. Those surfaces include things like roofs, driveways, and parking lots.
"You want a clean and safe community, and how you deal with stormwater is part of that," said Charlottesville Environmental Administrator Kristel Riddervold.
The city considered the same proposal back in 2008, but put the plan on hold because of the worsening recession. A report from the 2008 Citizen Advisory Committee suggested charging $2.10 for every thousand square feet of runoff surfaces on a given property.
The revenue collected from the fee would help protect area streams and rivers from runoff pollution, and keep Charlottesville's stormwater infrastructure in line with state regulations. It's estimated that around 20 percent of the city's storm pipes are in need of some repair or upgrade.
"It levies the cost fairly on all of us, as generators of stormwater," Rivanna River Basin Commission Executive Director Leslie Middleton said.
Riddervold added, "I think it's time for us to take a good look at it again, and see how it will work in our community."
A citizen advisory committee will meet Wednesday September 26 to continue discussions. They will meet again in October to update the proposal before a series of open houses in November. The committee is consulting with other localities in Virginia that have implemented a similar fee structure.
Lynchburg rolled out its stormwater management fee in July. City staff members say it ruffled some feathers with taxpayers, but was ultimately considered to be the most equitable option.
The story is similar in Charlottesville, where some people like City Councilor Dave Norris are skeptical of the fee. He says it's the largest proposed tax increase he's seen in his seven years on city council.
"I am not inclined to support a tax increase that is going to put a pretty significant burden on local property owners," Norris said.
Norris is specifically concerned about nonprofit and religious institutions - like churches - that currently pay no city taxes. Some could end up paying thousands of dollars in stormwater management fees.
"A lot of churches are struggling right now financially, and I hate to add one more burden to them," he said.
Norris supports setting aside more money from the city's existing capital improvement program to address infrastructure upgrades. The proposal will go before city council later this year. If it passes, it could be rolled out at the beginning of the 2014 fiscal year.
Click here for more information on the Water Resources Protection Program or email stormwater@charlottesville.org.