'Sullivan Ouster' Class Held at UVA
Posted:
Updated: Sep 24, 2012 07:32 AM EDT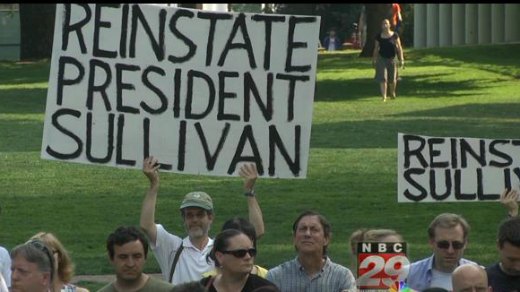 Students are becoming scribes at the University of Virginia, writing the history of one of the most controversial events to ever take place on grounds.
The leadership crisis surrounding the ouster and reinstatement of UVA President Teresa Sullivan may be over, but the history lesson has just begun.
"I'm from Boston and this summer I saw the email and my initial reaction was 'What?' and I felt like I was very removed from the issue and I wasn't getting enough information from the school, and I love this school so much, so I really wanted to find a way to reconnect," said second year Posie Holmes.
When the events at UVA unfolded, many students were home for the summer. Now they have a chance to take a second look at the situation.
NBC29 got an inside look at the new class underway this semester. The course is called "Documenting UVA's Future: Oral History of the Ouster and Reinstatement." It's being co-taught by UVA professors Walter Heinecke and John Alexander.
"This is something that is deeply affecting the students who are in the class, but it's affecting all of us at in University community, and just coming to some better understanding of it is what we're about," Alexander said.
The class is being offered in the media studies department as a 300 level course with no prerequisites. According to the syllabus, there will be readings, class discussions, blog posts, essays, and presentations. The main project for the class, though, is for students to interview people involved in the Sullivan events, and document their responses.
"Finding people who have been involved in the events of this summer in ways that you wouldn't necessarily think of, so people who organized the rallies or people who just provided power, people who closed down their stores so people could go to the rallies and find out what was going on, and be a part of it," Holmes said.
There are plans to have a similar class in the spring.
"I feel like I know a lot more about it, but I feel like it's continually evolving and there's a lot more going on in a greater context, so I feel like I've learned a lot, but I feel like there's so much more out there to keep learning," said Holmes.
Students will provide the audio files and transcripts from all their interviews online. It will all be available on the class website as well as the UVA library catalog.