Kaine Kicks Off Statewide Canvass Effort in Charlottesville
Posted:
Updated: Sep 22, 2012 06:02 PM EDT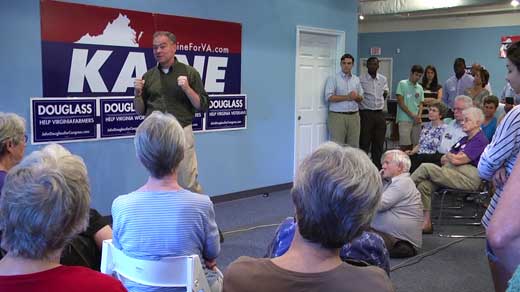 Former Governor Tim Kaine kicked off a statewide voter canvassing effort in Charlottesville on Saturday. The Democratic Senate candidate is telling supporters why he needs their help to win on November 6 while defending some criticized comments from this week's debate.
Kaine pulled ahead of his opponent George Allen for the first time this week in the polls. And on Saturday he told supporters in Charlottesville that it would take grassroots action to have the lead in November.
"The grassroots energy at the end of the day is what's lined up against the big checks and the negative ads and that's why people canvass and that's why people call," said Kaine.
The former governor encouraged volunteers to talk to neighbors face-to-face about his campaign.
"Keeping politics to one-on-one, sharing information, persuading others, listening to people - that's why canvassing is important to me," said Mary Rice, a Kaine supporter.
Brigadier General John Douglass joined Kaine at Saturday's event. He's attempting to unseat 5th District Republican Congressman Robert Hurt.
"We're all in good spirits. We're 45 days to go, we're fired up and...you know our base is turning out and the independents are coming our way - that's what it takes to win this election," said Douglass.
Kaine says his campaign is feeling good following his debate against George Allen on Thursday. Conservatives are slamming the Democrat for saying in the debate he would be open to a minimum income tax for every American. Kaine says he would not change his answer to debate host David Gregory's question.
He explained, "David asked - I mean he put a proposal on the table, and I said I'd be open to it. I'd have to hear the details but that's the way I'm going to deal in the Senate. If I want people to listen to me and consider what I propose, I've gotta be open to considering what others propose."
After brief speeches by the candidates, supporters took to the streets to rally support while Kaine headed out to launch canvasses in Harrisonburg and Sterling.
Kaine's Republican challenger, George Allen, was at a Virginia Voices Women's event in Reston Saturday afternoon.
Despite optimism from the campaigns, the Senate race is very tight. Analysts say this week's poll results, which showed Kaine leading, were inflated and that the race will be close until Election Day.