New Harrington Pledge Cards Aim to 'Help Save the Next Girl'
Posted:
Updated: Sep 16, 2012 07:21 PM EDT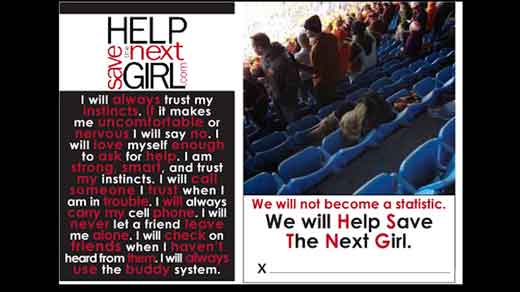 The "Help Save the Next Girl" pledge card.
As the three-year anniversary of the disappearance of Morgan Harrington approaches, her mother is reaching out to young women through new pledge cards.
The Virginia Tech student went missing in Charlottesville on October 17, 2009, and months later, in January of 2010, her remains were found on an Albemarle County farm. But the search for her killer remains a challenge.
With school back in session, Gil Harrington and "Help Save the Next Girl" are reminding young women that in many ways, they are targets. "Help Save the Next Girl" has launched a new pledge campaign asking women to not only look out for themselves, but each other.
"I can feel his bloodlust growing, and there's a whole crop of students here who don't know the story," said Harrington.
The image posted on the "Help Save the Next Girl" pledge card is of a young woman, alone and slouched over in a chair as people around her are preoccupied with a football game. It's a reminder that even in a large crowd, bad things can happen when no one is watching.
Gil Harrington found that out the hard way in October of 2009 after her daughter, Morgan, was murdered after leaving the Metallica concert at John Paul Jones Arena.
"We teach our young women that they are just as good as the guys, and they are. They are as bright and as creative, but they are not as strong. They are weaker and slower, and that defines prey," said Harrington.
The new "Help Save the Next Girl" pledge cards give young women the opportunity to stay committed to protecting one another, including vowing never to leave a friend alone, and to always carry a cell phone.
Harrington explained, "We want to maintain a presence here, to warn young women to be safe, to look out for one another, buddy up, and keep yourself on [hand] to keep him from finding another victim."
She says this latest effort isn't as much about finding Morgan's killer, which she calls that a side benefit, she says the focus of the pledge card campaign is to save other young women.
"It's a terrible life to live, being the surviving parents of a murdered child. And we really do want to save the next girl and not have other families go through this anguish," said Harrington.
The new pledge card is already being distributed at Virginia Tech. The goal is get more college campuses and even middle schools on board.
Click here for more information about the pledge.