Kristin Twiford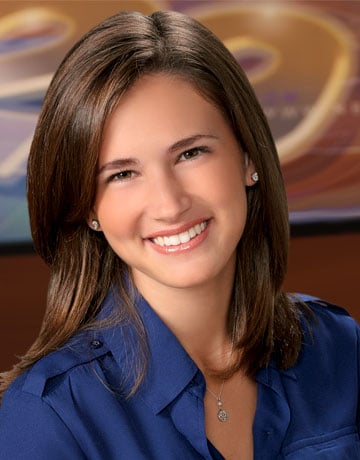 Kristin joined the NBC29 news team as a general assignment reporter in September 2012. A University of Virginia grad, she is excited to be back in Charlottesville – this time at NBC29!
Before coming to NBC29, Kristin worked in the field for the MTV show "MADE" in Los Angeles, CA and Fairfax, VA, and interned at "The Colbert Report" in New York City.
Her news career began with an internship at WJLA in Washington, D.C. Two years later, she served as a producer for WJLA's coverage of the George Huguely trial in Charlottesville.
Kristin worked for 91.1 WTJU's Virginia News throughout college, and graduated from UVA with a degree in Media Studies.
Born and raised in Maryland, she loves spending time with family and friends, traveling, and finding everyday adventures in Charlottesville.
Whether you have a story idea or just want to say hello and brighten her day, Kristin would be happy to hear from you. Email her at ktwiford@nbc29.com and connect with her on twitter @KTwifordNBC29.
---
Fast Facts:
First TV Appearance: My first media appearance was when I was 4 years old and our local newspaper put me on the front page for growing a particularly tall sunflower. But my first TV appearance was when a DC news station covered my high school's football team – go GC Falcons!
Favorite Story: I was fortunate enough to follow 8 children through a therapeutic horseback riding program and to tell their story. I will never forget their determination and positive attitudes.
Memorable Interview: I had the privilege of interviewing Miss Wheelchair Virginia Niki Swann during a visit she made to Charlottesville. She was so humble and inspiring, and I was glad to share her story.
Dream Interview: Meredith Vieira, Julia Roberts, and the Dalai Lama – I admire all of them, and they're all rays of sunshine.
Dream Job: I'd love to work for the "Today" show. More specifically, it's my dream to host the Macy's Thanksgiving Day Parade. The festive atmosphere, the balloons, the floats, the music – the parade never loses its magic.
Most rewarding part of your job: I have always loved learning, talking to people and telling stories. I can't believe how fortunate I am to have a job that combines all three!
Favorite TV show: I love the "Today" show, "Sunday Morning", and "The Colbert Report," but embarrassingly, I never miss "The Bachelor."
Role Models: My parents and my younger brother. They always seem to have the right answer.
Hidden Talent: Karaoke… regardless of my singing ability.
Alma Mater: The University of Virginia
Hometown: Laytonsville, Maryland
Hobbies: Watching movies, exploring, finding fun places to eat in Charlottesville.
Favorite Food: Peanut butter and chocolate (still haven't gotten over my kid favorites).
Favorite Sports Team: The Washington Redskins, The Caps, and the Virginia Cavaliers!
Favorite Musicians: Florence and the Machine, Adele, Lady Gaga, Motown bands, and crooners.
Favorite Song: "Shake It Out" by Florence and the Machine – you can't feel unhappy listening to that song.
Favorite Author: Jane Austen, I'm a hopeless romantic.
Favorite Vacation Spot: St. Michael's, Maryland. I relax just thinking about it.