Some Albemarle Schools to Close Early Wednesday
Posted:
Updated: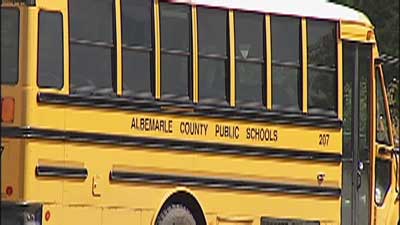 Albemarle County Public Schools Press Release
(ALBEMARLE COUNTY, Virginia) – Several Albemarle County public schools will dismiss students early tomorrow, Wednesday, August 29, as a result of planned road closures by the Albemarle County Police Department. The police department announced the road closures this morning in connection with tomorrow's planned visit to Charlottesville by President Barack Obama.
"The closing of some roads and the impact that will have on secondary routes will affect our ability to transport students home in accordance with our normal schedules," said Josh Davis, Chief Operating Officer for Albemarle County Public Schools. "This will primarily impact our northern feeder pattern schools. As a result, parents should plan for students in these schools to arrive home three hours earlier than usual," Davis said.
The following elementary schools will dismiss students at 11:25 tomorrow morning: Agnor-Hurt, Baker-Butler, Broadus Wood, Greer, Hollymead, Stony Point and Woodbrook. The afternoon session at CATEC will be canceled. Students who attend Ivy Creek and Post High School will be dismissed at 12:05 p.m.; students from the Community Public Charter School will be dismissed at 12:20 p.m.; and Enterprise Alternative Education Center and Murray High School students will be dismissed at 12:27 tomorrow afternoon. Albemarle High School students will be dismissed at 12:50 p.m., and students from Burley, Jouett and Sutherland middle schools will be dismissed at 1 p.m.
Staff at all of the schools with early dismissals will work their normal schedule. The Extended Day Enrichment Program will be open, and all after-school programs and activities also will be held.
"We will continue to monitor developments around the President's planned visit for tomorrow. In the event there are changes, we will make the necessary adjustments to our plans and keep the public informed," Davis said.
EARLY DISMISSAL SUMMARY
11:25 a.m. Dismissal:
Agnor-Hurt Elementary
Baker-Butler Elementary
Broadus Wood Elementary
Greer Elementary
Hollymead Elementary
Stony Point Elementary
Woodbrook Elementary
12:05 p.m. Dismissal:
12:20 p.m. Dismissal:
Community Public Charter School
12:27 p.m. Dismissal:
Enterprise Alternative Education Center
Murray High
12:50 p.m. Dismissal:
1:00 p.m. Dismissal:
Burley Middle
Jouett Middle
Sutherland Middle
Jennifer Albert Butler
Management Analyst II
Office of Strategic Communications