Albemarle Investigates Possible Voter Fraud
Posted:
Updated: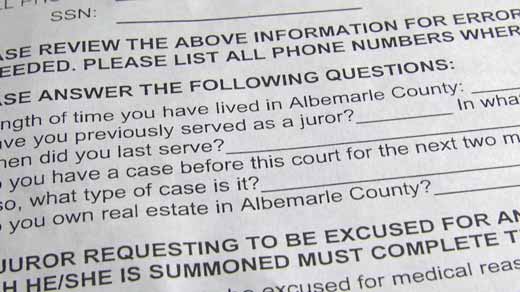 The Albemarle County commonwealth's attorney says her office is spending a lot of hours investigating the possibility of voter fraud. Meanwhile, members of the electoral board may be charged with contempt of court for photocopying sensitive information.
A circuit court judge allowed two members of the Albemarle County Electoral Board - Dr. Clara Belle Wheeler and Alan Swinger - to sift through 450 jury questionnaires to ensure voter rolls are accurate in Albemarle County.
Now three Albemarle County residents are under investigation for voter fraud and whoever made copies of those documents is under investigation for contempt of court.
Wheeler said, "We want to prevent mistakes on the voter registration rolls."
From prospective jurors that had been excused over the past three years on behalf of the electoral board, they found 159 that were questionable.
Wheeler stated, "They said they were not a U.S. citizen, they were a convicted felon whose rights had not been restored, they were dead or they moved out of the county."
Albemarle County Commonwealth's Attorney, Denise Lunsford, says from the 159, nine potential voter fraud cases were reported by the electoral board. Of those, three are under investigation to find whether they were citizens when they registered to vote.
On top of the investigation, members of the electoral board may be charged with contempt of court. In the midst of making sure the voter rolls are accurate, someone made photocopies of the jury questionnaires, which include personal information like social security numbers.
Wheeler stated, "We were told by her office that we needed to have clear accuracy when the signature was signed - the only way to do that is to present her with the form."
Lunsford says when three out of 69,000 registered voters are under investigation she finds it more concerning that copies were made of sensitive information.
Albemarle Voter Registrar Jake Washburn stated, "Anyone that is granted permission by the court to review jury questionnaires may transcribe the information that they find, and write it down on a piece of paper, but they're technically not permitted to photocopy it."
If the people under investigation for voter fraud were not citizens when they registered to vote - as they claimed on the jury questionnaire - their registrations will be cancelled.
Wheeler also sent a letter regarding those original 159 questionable questionnaires to the Virginia State Board of Elections, click here to read the letter.