Stuarts Draft Pastor on Trial in Vermont
Posted:
Updated: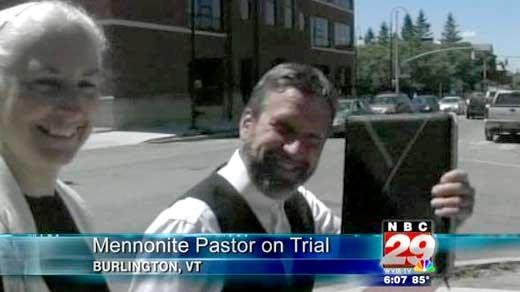 By WILSON RING
Associated Press
BURLINGTON, Vt. (AP) - A federal judge advised jurors Tuesday to remain objective as they hear evidence over the next several days in a criminal case in Vermont that touches on issues of religion and gay rights.
Eleven women and three men were impaneled to hear the case against Mennonite Pastor Kenneth Miller, accused of helping a woman flee the United States with her daughter rather than share custody of the child with her former lesbian partner.
Miller, 46, of Stuarts Draft, Va., is charged with aiding in international kidnapping. A conviction carries a maximum prison term of 3 years. The jury was selected Tuesday and court will resume with opening statements Wednesday.
Potential jurors were asked about their beliefs regarding same-sex relations, the role of religion and strongly held beliefs in society, and whether they could judge the case solely on the law and the evidence. Some in the jury pool were dismissed because they had expressed strong opinions about same-sex relationships and child custody disputes.
The judge said jurors will have to set aside their opinions and deal with the facts and the law in the case.
"What is at issue here is whether Mr. Miller committed a crime," U.S. District Court Judge William Sessions said.
The trial is expected to last six days.
Lisa Miller, no relation to the defendant, and Janet Jenkins of Fair Haven entered a civil union in Vermont in 2000. Lisa Miller gave birth to her daughter, Isabella, in 2002. The couple later broke up, and Lisa Miller returned to her native Virginia.
Kenneth Miller is accused of helping Lisa Miller and her daughter travel from Virginia to Canada, then to Nicaragua in September 2009 where they lived among Mennonites. The current whereabouts of the mother and her now-10-year-old child are unknown.
The two women have been in a long legal battle over custody of Isabella. The Vermont family court, whose decision was upheld by the supreme courts of Vermont and Virginia, treated the case, essentially as it would a child custody dispute between two heterosexual parents. The court initially gave Lisa Miller custody and Jenkins regular visitation rights, but then transferred custody to Jenkins saying that Miller had repeatedly balked at court orders to allow Jenkins visitation.
Kenneth Miller's attorneys are expected to argue that the Vermont family court order that transferred custody of Isabella to Jenkins had not be filed at the time the two are alleged to have left the country.
Assistant U.S. Attorney Paul Van de Graaf said Tuesday that Lisa Miller fled the country with her daughter several days before a court-ordered visitation.
About two dozen witnesses from the United States and Canada could be called to testify in the case.
Copyright 2012 The Associated Press. All rights reserved. This material may not be published, broadcast, rewritten or redistributed.