Forbes Ranks UVA Top Public University in the Country
Posted:
Updated: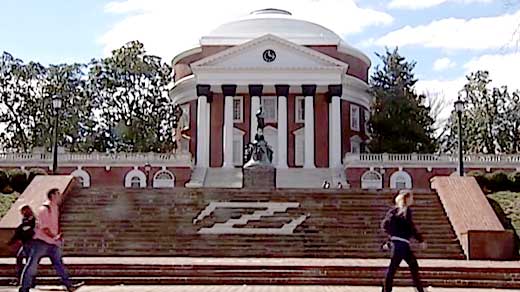 The University of Virginia is the top public university in the country, according to newly released rankings from Forbes magazine.
Overall, UVA is ranked 36th out of 100 of Forbes' "America's Top Colleges". Excluding service academies, there are five public schools in the top 50, with the University of Virginia being the highest ranked.
Forbes took quality of teaching, career prospects, graduation rates, and student debt into consideration.
---
Statement of Governor Bob McDonnell on Virginia Colleges Topping Forbes Annual Report
University of Virginia and William and Mary No. 1 and No. 2 Public Non-service academy colleges in America; both improve in overall rankings
RICHMOND – Governor McDonnell issued the following statement following the release of Forbes' annual "America's Top Colleges" report, showing the University of Virginia and William and Mary once again ranking No. 1 and No. 2 for public non-service academy colleges in the country. The University of Virginia also improved 10 positions in the overall rankings to No. 36, and William and Mary improved nine positions overall to No. 40. Washington and Lee (No. 15) and the University of Richmond (No. 73) also ranked in the top 100 overall schools. 22 Virginia schools were included in the "America's Top Colleges" report. The full report is available at http://www.forbes.com/sites/michaelnoer/2012/08/01/americas-top-colleges-2/
"Virginia's schools have had a reputation for excellence in higher education dating back to before there was a United States of America. I applaud the University of Virginia and the College of William and Mary for this additional recognition as the top public non-service academy colleges in the country for 2012. The rankings focus on 'quality of teaching, great career prospects, high graduation rates and low-levels of debt.' Virginia schools recognize that they must continue to improve to remain national leaders in public higher education and it encourages me to see efforts to innovate and enhance the quality of higher education paying off, with both schools improving in their overall national standings. I thank the college presidents and administrators at UVA, William and Mary, and our many other outstanding colleges and universities for not only focusing on improving the quality of instruction, but for addressing the significant challenges students face regarding college affordability and access. After years of double-digit tuition increases and diminishing state funding, Virginia invested more than $200 million of new money in higher education funding in the biennial budget, and college presidents responded with the lowest tuition increases in a decade. Our work to reform will continue, and Virginia's tremendous colleges and universities will continue to remain national models for achievement in higher education in the years ahead."