Mary Baldwin Takes Part in Virginia Private College Week
Posted:
Updated: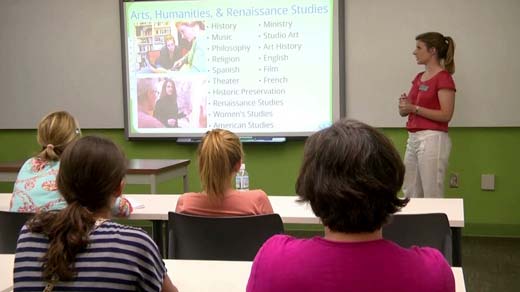 Two dozen campuses across the commonwealth are rolling out the red carpet for Virginia's Private College Week. Among them is Mary Baldwin College in Staunton, which lures students with some one-of-a-kind programs and the promise of a new medical school.
Baldwin is well known for its "program for the exceptionally gifted" and can boast the nation's only all-female corps of cadets. Now it has also broken ground on the $20 million College of Health Sciences. This week it welcomes young women who could be among its first students.
Mary Baldwin's College of Health Sciences is two years from opening, but heavy equipment has begun early site work, at the campus near Augusta Health in Fishersville.
"We have also hired a new vice president of health sciences, who will be starting work next week. We have a founding director for our physical therapy program," Mary Baldwin College Vice President Crista Cabe said.
The college is also doing some recruiting, back at its main campus in downtown Staunton. Prospective students and their families get the red carpet during Virginia's Private College Week. Baldwin's tuition and housing run roughly $36,000 a year, but there is plenty of help.
Mary Baldwin College Admissions Director Robert Palmer said, "As soon as you fill out the financial aid, there is a lot of federal and state grants, along with Mary Baldwin grant that make it more of a state college tuition rate."
The small women's college says it routinely beats application estimates, because of its mix of academic standards, and emphasis on community.
"Baldwin students have the confidence to lead, the compassion to service, and the courage to change the world," Palmer said. "We are preparing women for the real world for working and being leaders."
Mary Baldwin College says its new medical school will be a natural extension of that.
"Who's more confident and compassionate than a health service provider who knows what she or he is doing, and knows how to help other people, and does so every day," said Cabe.
Bridgewater College and Eastern Mennonite University also offer welcoming events this week. As for the cost, nearly three-quarters of Virginia private-college students asked for financial aid last year, and the help they received average more than $20,000.