Hospital Food Goes Farm Fresh at UVA
Posted:
Updated: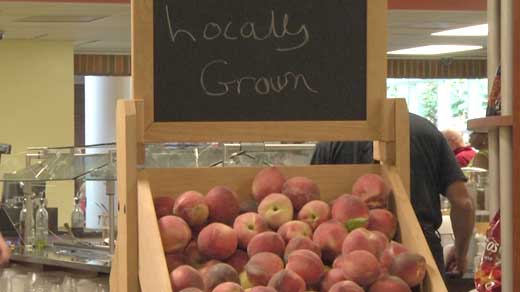 University of Virginia Health System is trying to offer healthier hospital food options.
They're partnering with the Local Food Hub to provide cafeteria farm stands, at various UVA Health System locations to provide more nutritious meal options for patients and employees of the hospital.
"It's brilliant because all the ingredients, especially all the fresh fruits and vegetables that we get are all grown within a 10 to 12 mile radius from the hospital here, so we're taking it straight from the field the day it's picked," said Stephen Losee, the executive chef for UVA Health System.
Locally grown food is going into meals like the "urban chopped salad," and showing up in stands, so people can shop for fresh ingredients for their own meals.
"It's just a really cool thing that we have that's just an opportunity that most hospitals aren't able to do," said senior retail manager Chadwick French.
But one of the most important uses for this food is for the patients who need to eat healthy to help in their recoveries.
"We try very hard to increase the nutrient value for the patients that we serve, obviously they're sick, they need the nutrients as much as possible. So having the fresh local foods helps with that," said nutritionist Wendy Philips.
This is the third year the Local Food Hub has supplied the hospital with locally-sourced produce. The food stands stay up throughout the summer, with everything from potatoes to tomatoes, and even water. The staff says they feel secure knowing all of it came from a farm not too far away.
"This is right down the street essentially. Which allows for that great quality product to be there. It's fresh. Sometimes it's picked even just days before it's brought to us here," French said.
The chefs for UVA Health System said they hope to expand the program to include as many locally grown ingredients as possible. Click here, for a blog post by UVA Health System, which lists all of the cafeteria farm stands locations.